So it's no secret I have been having a rough time, I am oh so very vocal about it!

I have been working on "shaking it off" and moving forward... and I am definitely taking baby steps in the right direction. My 2 most important things that I am working on are getting back on track with my weight loss journey and getting my house organized. Those are two pretty big tasks, especially when you feel overwhelmed. There's so much to do it's one of those things where it's like "where in the world do I even start?!" But I realized, the beauty of having SO much to do to get things turned around means that there are plenty of choices!

So I have put a new plan in place, I've assigned "minute goals" for cleaning and exercise, that way I can do a little bit each day to work towards what I want to achieve. My house isn't going to be clean overnight, and I'm not going to wake up at my goal weight... but I can be proactive on a daily basis, and that will add up to big results! I have started tracking my food again, after almost 2 weeks off. Let me say, the amount of calories was not pretty, but just tracking it was a huge first step. I am giving myself a couple of days to get adjusted to lowering my intake again, and starting Saturday "Operation Shake It Off" will be in full force!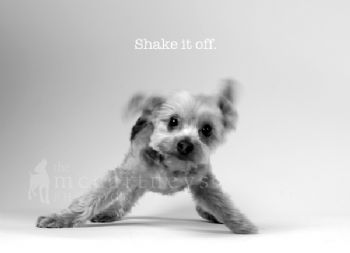 So today I was really thinking about the "backsliding" I have done with my weight loss. It really frustrates me to know I've put on about 10 pounds now in the last couple of weeks. It seems like it takes soooooo long to lose 10 pounds, but they can find me in the blink of an eye! I have also always felt like "relosing gained weight" is NEVER as a fun as losing new weight. Losing the same 5-10 pounds gets so boring... and when we are consistently losing weight and we see brand new low weights, we can really feel inspired and encouraged. When we get accustomed to seeing the same weights time and time again, we can feel like we are getting nowhere. It can even go as far to make you think "Why do I even bother?!"
But I really started to think about it... and I know we would all like to be a person that decides to lose weight, sticks to their routine flawlessly, day in and day out, and gets to their goal weight in record time with no struggle. Doesn't that just sound so fabulous?! The only problem is, that person doesn't exist.

Nobody's perfect, we all have struggles, personal problems, obstacles that may hold us back, days where we don't want to do this, days where we eat everything, and even days where we want to quit! But the people who end up successful at weight loss are the ones that never ever quit!
So I have decided that while backsliding isn't fun, I would rather be a Backslider over a Quitter any day! As a backslider, I am still here, still trying. If I am not on track and doing well, I am working on getting back on track. Instead of letting 10 pounds lead to me gaining back the entire 90 pounds that I've lost, I'm going to work to lose those 10 pounds AGAIN. Even though it can get discouraging to see that I am still in the 180's after all thi time, I'd rather still be trying, and seeing the 180's instead of throwing in the towel and seeing my weight skyrocket right back into Twoterville!
So if you are backsliding, if you are fighting regain, just remember, a backslider is miles ahead of a quitter!