Time To "Shake It Off"!

Wednesday, August 20, 2014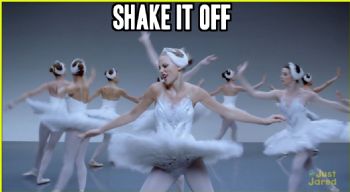 Do you ever hear a song at the perfect moment and go "that is what I needed today?" Well Taylor Swift's new video for Shake It Off gave me such a laugh that I needed! You can love her or hate her, I actually really don't care, but I do like a few of her songs. But seeing her dance around without a care in the world gave me a laugh that I so desperately needed. It also gave me a renewed attitude. I don't need to worry about what others (the negative ones especially) have to say about me, I don't have to worry about things I can't control, I just need to "shake it off" and take care of me!
So that is what I am doing. I am still struggling to get back on track, but I am putting an action plan in place. The two areas of my life that I want to get in control are my weight loss (food/exercise) and getting my house clean and organized. I won't bore you with all the tedious details of my plan, because I'm sure no one really cares... but the way I've decided to break it down is by minutes. I want to assign a certain amount of minutes to each thing. So XX amount of cleaning and exercise. Then I will have calorie goals and glasses of water goals to keep track of those things.
I also am going to have a master list for my cleaning. When it is time to work my minutes for cleaning, I don't want to have to sit around and ponder what I am going to do. So I am going to make a master list of all the things I have to get done. To make it more "fun and interesting", I might assign a number to each task and then pick the number out of the hat and do the listed chore. Hey, whatever works, right?


I am also giving up the scale for the time being. My next weigh in will be September 16th. I have put on almost 10 pounds with all of my "off track-ness" and it is to a point where it's overwhelming me. So stepping away from it right now is important. It will also help me make good decisions because when I get on the scale I will want to see that it has been going in the right direction. After that I want to weigh in every other Tuesday. This is coming from a chronic daily (and sometimes 3 times a day weigher) so this is going to be a big challenge but I'm going to work on it.
I can feel the blahs starting to lift and that song by Taylor Swift (especially the video) just makes me want to sing and dance like a fool, and you can't feel blah while you are acting a fool!