Nothing makes you appreciate the little things in life more than suddenly being without them. I'm determined that this is NOT going to be a whiny blog. Instead, my mood is beginning to improve a little now that I'm three weeks post-op. I'm still stuck at home with my wheelchair, but I go back to my doctor tomorrow and I'm hoping he'll release me to go back to work. At least I'd be able to get out of this house on a regular basis and that would be a good thing.
I've always heard that everything happens for a reason. I've spent the last month struggling to understand what could possibly be the reason for this injury? Maybe one day I'll figure it out for sure, or maybe I already have. Maybe I'm learning to appreciate the positive things in my life instead of dwelling on the negative.
We go through our every day lives and most of us never stop to think about how blessed we truly are. When I had my elective surgery in February I was only on crutches three weeks before I was allowed to walk on my heel. My broken leg will now keep me off of it completely for six to eight weeks. I find myself in a wheelchair rolling around my house, trying to figure out how to reach things in my kitchen (I've gotten pretty good at locking my chair and standing on one leg), rolling into my laundry room and doing laundry, bathing in an entirely different way, and knowing I can't jump in my car and go anywhere I want. Some days I get extremely frustrated, but one thing is for sure, I am learning to appreciate the little things in life more than I ever have.
When it comes to my ability to walk around with ease, I don't think I'll ever again take that for granted. I've always been thankful for the things I did have in my life, but now I wake up every morning and I thank God for those blessings. I thank Him for my family and friends who are here for me. My boys would do anything I asked to help me out, but the truth is I need to be useful. I actually found myself vacuuming yesterday from my wheelchair. It was interesting and it took a lot longer than usual, but I did it. It makes me feel better when I can accomplish something, anything, each day.
One thing I do miss right now that I can't yet do anything about is my grand-dog. My son and his wife have a pit bull. He is a big baby who truly loves everyone, but he is also 65 pounds of muscle. When he sees me (or anyone) he gets so excited, so they're afraid that in his excitement he might jump on me and my leg and possibly hurt it more. I have only seen him once since my accident, and that was when they held him on the other side of a baby gate so I could wheel up to it and pet him. It was great because I got lots of kisses from him. Sahara is also missing him terribly because she adores him and loves playing with him. I really look forward to the day when I can take the two of them back outside and play with them.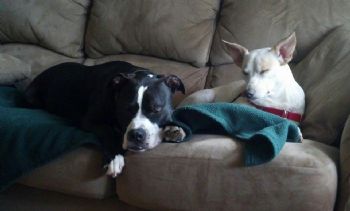 Heinlein and Sahara on my couch. No, neither of them are supposed to be on the furniture, but they had played so hard that day and were both exhausted. I couldn't bring myself to wake them up and make them get down.
Bottom line is, try not to take the little things for granted. Every day, when you open your eyes in the morning, try to appreciate what you do have and be thankful for another day. I now feel so much more blessed in my life.