Day Six & Seven Week One - My Twelve Week Challenge
Tuesday, August 19, 2014
I enjoyed my two rest days immensley! We went for a short 5km bike ride and that was about it. I needed the rest and I was glad to get it! My feet got wet at one of my work events and I had immense agony in my toes (bad arthritis) soaked them in hot hot water with lavender and Epsom salts and was oak for my run this morning!!
No selfie on rest days but here is my bike ride, I had to log it on Nike+ because my cycletracker wasnt working..there goes my average speed for runs lol! Ignore the calories etc, this was just for distance :)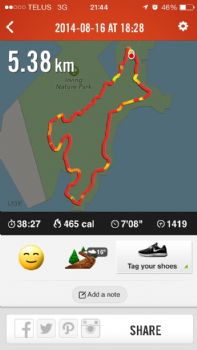 Week Two focus is food...being mindful of my food intake and try and get a better balance all around!