I like to hedge my bets on my event result estimates. Especially on new events, I estimate my times conservatively, because I have no idea how my training times will compare to actual competitive times. Even so, I was totally surprised at how poorly I did on my trail marathon. You who know me may be tired of hearing about it, but it shook me up that I was not ready for that kind of event, and suffered during the last half, and ended with a poor finish time.
It shook my confidence, I suppose. Today was my first Olympic Triathlon, and I trained hard for it. Even so, my cycle times are not great, and swimming doesn't seem much better, though I enjoy doing both. I looked at this event as a new challenge and just wanted to do it, so I could say I did it.
I started the swim easily, nice pace, breathing correctly and not caring about speed at all. Being a smaller event, there wasn't too much thrashing around me, and getting bumped around. Triathletes call this the 'washing machine' effect, which can be an apt description in larger events. I was comfortable in the water and felt good throughout the 1500 meters. This was a continuous swim, not one where you exit the water at the end of the first loop and re-enter for the second loop. You just keep swimming. I did the 2 loops without stopping to rest, and felt good with it. I was conserving energy for the entire race. I felt strong as I exited the water, and ran to the transition to retrieve my bike. Many others were walking, perhaps having pushed too hard in the swim, or maybe they just weren't concerned about time at all.
I got to the bike transition, put on my cycling shoes, popped a GU with caffeine, and had some water, and walked the bike to the spot where you can jump on and ride. Again, I started kind of slowly, but the adrenaline was flowing, I felt great, and quickly got moving. My pace felt fine, no stress or excessive heart rate, and when I looked at the gps watch it showed I was doing 18 mph. OK, that's not fast for most, but very fast for me. I was genuinely surprised that I was doing so well, and not feeling stressed. Maybe it was downhill. So I continue on, finished the first loop rather quickly, and started the second loop, I was feeling it now, so I backed off just a bit on my effort, and enjoyed the ride to it's end.
Hopping off the bike, I walked it to the transition area easily. Sat down, changed to my running shoes. I left the watch on the bike handlebars. Screw it, I'll run without the watch and see how it goes. Took some salted water that I had made up prior to the race, put on my race belt and ran off.
I was going to do a run/walk as usual and that worked fine for me. I felt good for a while, but the temperature was creeping up now and it was sunny out, despite the supposedly "completely shaded run portion' that they advertised. I knew coming in that it was not going to really be shady, but it was not complete sun either, a good combination of both. But, it was dang hot! Finished the first loop fine, but feeling tired now. Plugging along I passed some runners and was passed by others. Everyone was cheerful and a lot of 'good jobs' were sent and received. Very friendly crowd. Around mile 4 my thigh started cramping, and I actually stopped to massage my leg for a couple of seconds. Then I just decided to shorten my stride and run slower. I only had about a mile to go, so I wasn't so worried, I could always walk the last mile if need be. I didn't have to do that, I just kept run/walking and finally approached the turn off to the finish line corridor. I crossed the finish line with a huge smile. I saw my number flashing, and I knew my real time would be even better than the number displayed, because the race started officially about 3 minutes before I did. Wow! what a good time.
Could this course have been shorter than standard? Or did my 3 day rest period and hard training really pay off that well?
They have not yet posted all the details, like individual swim, bike, run and transition times, but they did show me my official overall time.
Turns out I took second place in age group. My time was 3:09:27 seconds. I was originally told that I won first place, but that was later changed to second place due to some error. This picture was taken before they discovered the error.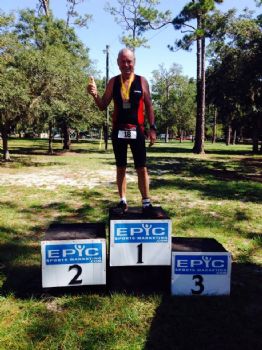 Considering I would have been very pleased with a 3:30 time, I was shocked at my actual time. I was prepared to do about 3:30 - 3:45 and anything more I would have not considered good.
So there's my redemption after my crappy trail marathon time. We can't always excel but we certainly can continue to strive for excellence. We have good days and bad days, and I'm grateful for each of them. Today was a good day.
Thanks for reading and have a good day yourself!