Life has put me in the time out corner for a little while. To get to the point, I had an old injury rear its ugly head over the last year and it got to the point that I had to do something about it. About 15 yrs ago I was trying to be macho man at a softball game and swung way too hard and of course, I missed but I did succeed in tearing the cartilage in my right shoulder. July 30th I went in to have it operated on and so far my recovery is going well.
Recovery Room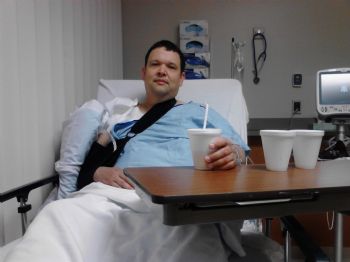 Shoulder tear
The first 72 hours was pretty tough. Brushing my teeth and other basic things I took for granted now required ninja-like skills (I'm right handed) and dropping something on the floor was bad news. I couldn't just pick it up because bending over put pressure on my shoulder and was painful. That's when I would flip it up in the air with my foot and catch it with my left hand. :: Level 2 Ninja Skills Unlocked ::
Went for a 2 mile walk on the treadmill at the gym and felt really good. After several days of "house arrest", it was a blessing to be released for good behavior (and before family beats me up and throws me out on the street for driving them crazy) Seriously, it feels really good to be able to function again.
I will be starting physical therapy probably toward the end of August or early September. So until then, any exercise I do is pretty much from the core down until the pro's evaluate me and determine what is safe. This is something I DON'T want to go through again.
This also presents a very unique opportunity for me. For a minimum of about 6+ weeks I will have complete control of my time and my life. No shift work, no imbalances caused by my circadian rhythm being all screwed up, no outside influences, no work stress, no demands dictating when I sleep and when I can do what. Nothing. Short of therapy appointments, I am my own man for 30-45 days.... paid.
So... I pose a question.
If you have ever seen Supersize Me, where the guy goes on a McDonalds only diet for 30 days, you may have a clue as to what I am about to ask.
What would I be capable of if I had no distractions or external temptations for the next 30 days?
What this means-
1) A full nights sleep with no alarm clock. wake up with the sun as opposed to something unnatural.
2) Total focus on nutrition, I am in complete control.
3) Fitness is no longer something to be squeezed in, it is my job for 30-45 days.
4) Family time and other enhancing activities, no longer dictated by work demands.
This will be interesting because it would show that:
-Successes, previously unattainable, would show just how toxic and counter-productive our hectic modern lifestyle really is. How our rush-rush life is working against us.
-Failures and difficulties would also show who the real enemy is, ME. That for all the excuse making and finger pointing, at the end of the day, we are our own worst enemy.
There is a certain about of hesitation when I say I am going to do this because I am not too anxious to lock horns with the real enemy, he is truly vicious and unforgiving. We can sometimes lean on reasoning's like "if it wasn't for my job, situation, relationship etc.... I could do X, Y, or Z. Admit it, haven't we all day dreamed a time or two of what it would be like if we could live unrestricted, if we could live in a bubble, oh the things we could do?
Well, this is my opportunity to do just that. I have always wondered this and have often complained of how life holds me back from doing what I have always wanted.
So I am reaching out to you, my friends in the Spark community, to cheer me on. I am going to be doing a blog series here about my journey and my observations. Basically I am going to be a human guinea pig living in a glass box. What am I able to do for 30 days eating right, exercising, getting rest, and tending to much needed family time?
Let's find out.
follow my daily progress on Facebook...
www.facebook.com/robert.
wadhams.7