Happy day 43:
Yesterday was a great day.

I picked up Winston from the SPCA, and brought him home. He had the look of wonder in his eyes, a bit worried, and a bit excited at the same time.
When we approached the front door, he moved ahead of me and put his nose right next to the door handle. He spent about twenty minutes scoping out the house, and then came into the living room where I was sitting, stretched, and then lay down on the long floor mat there... and let out a HUGE sigh. Then he came over and cuddled with me!
He's so thin. He was at the shelter for two months, and apparently had the runs the whole time. They gave me special food for him, and some medication to give him. His stools have been solid, though, so I guess it was just stress that was making him sick.
Checking out the kitchen: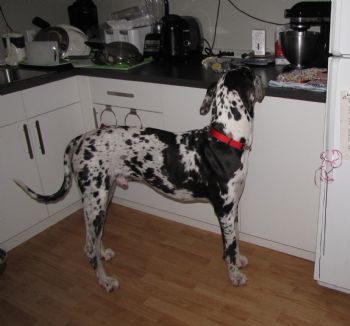 He is just a sweetheart! I have a feeling that he'll be sticking around after the foster period is over.
I was so excited about having him with me that I actually forgot to eat lunch and dinner! I was getting ready for bed when I realized it! I made a small chicken wrap from leftovers, and then slept like a baby.
Happy day 44...
Today, I stayed home with him, and we hung out. Took him for three walks - one was to the office building where I work, so I could show my co-workers.
When we arrived at the building, he kind of freaked out when he saw a statue ... he growled at it, and wouldn't go near it, but he stood and watched it, maybe waiting for it to move? LOL. It was comical.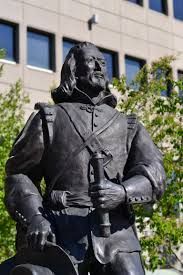 When we left, he got a little closer, but he was still about six feet away! LOL.
He's a lot more relaxed today, and he even left some of his dinner in his dish, so I guess he feels like he's at home!
He dreams a lot, his feet are running in his sleep. And he's goofy. Definitely has a sense of humour. He also snores. And he farts. A lot. Not sure how my house is going to smell after a week of him farting like that. I may need to get an air cleaner... LOL!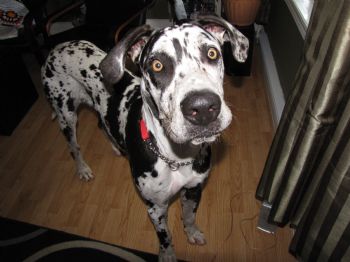 I'm happy. I think having him around will be beneficial to me in many ways -- not only with all the walks that we'll be taking, but everything else that he'll give me.
I even remembered to eat today! LOL.
Life is good!