Can't believe I did this!
Thursday, July 24, 2014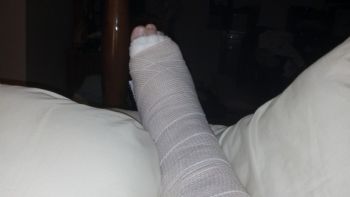 Does this look familiar? Nope, it is not another picture from my surgery in February, even though it looks almost the same. My son and I were working on some home renovations yesterday. Without going into the long story of how I did this, I dislocated my ankle and broke it in three places. Going to see my orthopedic surgeon in the morning. I can't believe I actually did this, but nothing I can do now except make the best of a bad situation. I'm just thankful that Cliff was with me because I don't think I could have gotten up out of the floor. I think the pain is actually beginning to ease a little since I can wait longer between pain meds. Trying hard to stay awake, but the meds make me so sleepy.
Hope you all have a great weekend!