Tuesday, July 22, 2014
I joined in the July Stash Buster Challenge and decided to knit myself a cardigan but with a difference. It was knitted in one piece and knitted sideways.
I have never done anything like this before and it was a real challenge as I had to place markers on the needle, use short rows and graft in the stitches on the sleeves.
All new to me so I was learning new things as I went along.
This is the pattern I used
www.ravelry.com/patterns
/library/corinne-3
and this is the end result.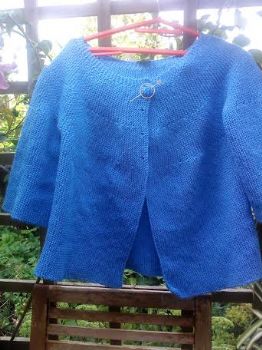 It needs to be blocked and buttons sewn on but I did it and have learnt how to do new things as well. The grafting of the stitches was something I was dreading but after looking up how to do it on Youtube, as the written instructions may as well been in hieroglyphics, I soon found it was not as difficult as I had thought.
So now I have a new cardigan that I can wear and have learnt new techniques that open up a lot more patterns for me that I was put off trying before.
Who says you can't teach an old dog new tricks? Not me I love learning new things and have proved I can do things I have done before.
I added it to my Nutty Knitter Blog as well as I like to keep arecord of what I have made.
the-nutty-knitter.blogsp
ot.co.uk/2014/07/my-blue-c
ardigan.html
Now I can make some more frogs and get them sent off to Siblings Together before I embark on a new project.