I remember when I first started running. I thought about running a 5K some day. I was unsure that I could run that far, and was afraid of coming in last place. Sounds familiar?
Well, I did it and finished just fine. They even gave me a ribbon! Wow how cool is that? A cool ribbon just for running 5 kilometers, I think I'll save this.
At some point soon thereafter, I found SparkPeople, and joined that, too. One of the first things I noticed is the runners ribbon racks, and walls with race bibs proudly displayed. Someday I'd like to have something like that too, but gee, it must take a long time. These guys are crazy dedicated to running!
So, I continued to race and got a few race bibs, and ribbons, made a rack from plans I found on the internet. Nothing fancy, I'll show you a picture of it in just a while.
First, let me tell you about my dear wife, Chris. She collects Boston Terrier stuff. We've had Boston Terriers for decades. And all the while, DW would find BT statues, door stops, picture frames, calendars, dishes, posters, decals, on and on.
I noticed the house was getting really full of Boston stuff, so I said to her, "Honey, at some point you will have to stop collecting these things. When do you stop becoming a collector and become the 'crazy Boston Terrier lady'?" She agreed, and did stop acquiring them, and even forbade her friends and famly from buying any more BT gifts. She went so far as to pack most of them away. They're in the garage now. Not to worry, there are still plenty around the house.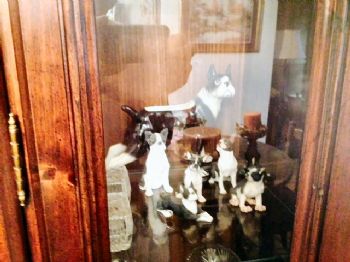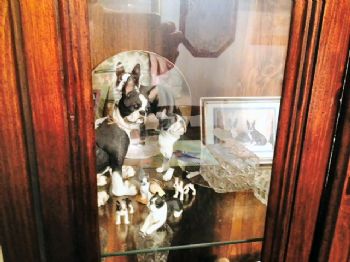 These are just the ones in the china cabinet. We have door stops, calendars, refrigerator magnets and statues elsewhere, too. Even with the bulk of them stored away.
So where was I? Oh yeah, collecting ribbons and race bibs. I remembered the conversation with my DW, and thought, ''Geez, am I becoming the 'crazy race trophys collector'?'' I had one ribbon rack, then my daughter found another larger one, which I thought was ridiculous, because it was so big. Guess what? It's almost full now. And wall plaques, too. And race bibs, so many of them they cover my ribbons on the smaller rack.
Never thought I'd have a wall like this.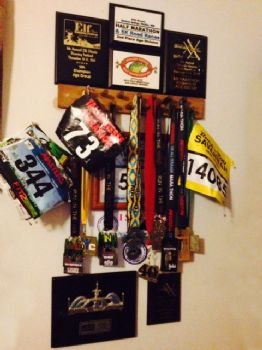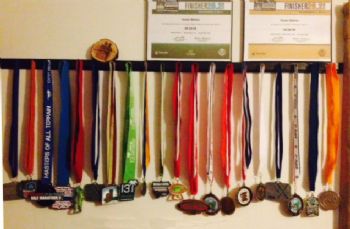 When does it end? I've only been running a few years. And just started with triathlons a few months ago, and am now getting ribbons for those too.
I have become the crazy athlete ribbon guy! But, I'm not alone. Some of you are just as crazy as I am.
Thanks for reading and have a great day.