Functional fitness for the win--except...
Wednesday, July 16, 2014
Rock wall: 1
Barb: 0
Always up for fitness on the job, that's why I volunteered to do some EW--Extreme Weeding in the rose gardens at work, including shoveling out old stumps. What I hadn't planned on was an old honeysuckle bush that had pretty much taken over everything, including working its way through the rock wall that the rose garden abuts. Picture it: foot on rock, pulling vine. Vine holds on for dear life, rock wall gives way.
I wasn't too high up, about five feet or less. And I hung on the edge just enough to think okay, I'm good. Then in slow motion, I went over and that's when I thought, okay, not good. It must be karma because I fell into...more weeds. I laid there for a bit and contemplated life, but didn't come up with any epiphanies.
Moral of the story: Rock walls, don't trust 'em unless you're the one who built' em. Also, honeysuckle is just bad news.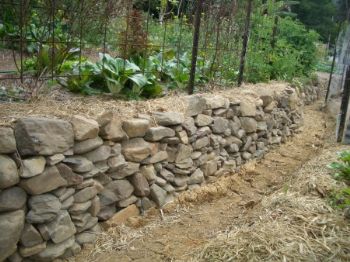 Not the one at work, but it looks sneaky.