Morning beautiful people,
guess where my hula hoops ends up, yes on the floor!!!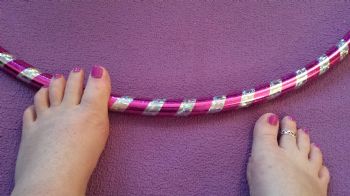 Not only have I been trying to learn a new skill, but have learnt that my hoop is too small and I need a bigger one, a fitness one. Thank you to my friends who have been educating me, and sista who has introduced the challenge to me!
The main difficulty for me is keeping it moving, as it may rotate once and then hits the floor, hence my photo above. LOL
Also I have been having fun hula hooping to music and recently love this afrobeat tune, I know it is not for everyone, but is very catchy and I have been having great fun trying to move to the beat and once it falls shaking my big bootie and picking it up!
#DangerousLove #AfrobeatsVsDancehall competition intro
https://www.youtube.com/watc
h?v=9Mu6O5F5au8#
This video also shows you my home city, normally more busy than this, if anyone cares to see.
The main thing is that I have been having fun, and although I have not yet achieved a full continuous minute, I am trying and trying. My challenge is 10 mins, I do the song twice which is about 8 mins and as I spend most of my time picking the hoop up, I have only tracked 4!
My dear friend who set the challenge has also urged me to make my own, which seems like great fun, I am just a little busy with work till August, but soon as I am free will certainly look into it.
ALL THAT IS LEFT TO DO IS TO THANK YOU ALL FOR ALL YOUR KIND COMMENTS AND ENCOURAGEMENT!
I PASS THE CHALLENGE ONTO ANYONE ONE OF YOU READING THIS, COME AND JOIN ME AND LETS HULA HOOP EVERYDAY?
WHO IS UP FOR IT, LET ME KNOW BELOW AND LET ME KNOW WHAT MUSIC YOU ARE DOING IT TO!!! lol
CIAO' HAPPY HULA HOOPING!