74.5 pounds down in one of my thrift shop $1 shirts...this gal loves a bargain LOL!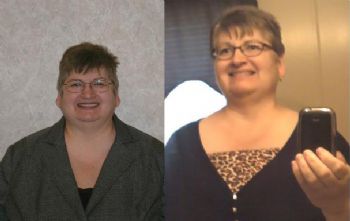 This is not my first trip down the scales, and I am hopeful it will be my last. I've learned a lot on previous journeys:
1998/1999 Lost 92 pounds following exchange program with TOPS, Then, went to Vegas in May 1999 to renew our vows for our 25 anniversary, started a new position with our company the following week, which led to eating out more, or eating more fast foods, stress eating, guilt over modest weight gain, led to eating away the guilt (DOH!) and of course more weight gain until it all came back and more.
2003/2006 Lost 167 pounds with Weight Watchers, reached goal and lifetime! I was on top of the world, until I got cocky. With WW lifetime members are only "required" to weigh in once a month, and I started skipping meetings, which led to eating more things than I should, and then practically starving myself the week before weigh in.....not the habits I had learned in the 18 months it took to lose it for sure! Within 5 months I was ten pounds over goal, mad at myself and determined to lose it. That was the toughest ten pounds in my life! Geez, the first ten came off in a week, right? I hovered ten to fifteen over goal for about a year, and then in September 2006, my boss "was allowed to retire", my best friend walked out over a petty argument (the argument was my fault), would NOT accept my apology and it was almost two years before we finally reconciled, October 2006 my husband's health reached a point he could no longer work.
I found my old "friends" Little Debbie and her evil twin Lofthouse! Before you knew it, 40 pounds were back on, then 50, and then to heck with it I gave up!
I had lost it. The "it" you cannot find on E-bay!
My husband needs me to be alive and be his caregiver. On November 25, 2013 returned home after 18 months in a nursing home. He will always need help with walking, or wheelchair mobility. I need to be able to take care of myself too.
So I started again on November 25, 2013, and this time I was at an all time high of 338 pounds!
Lessons I have learned:
1. Sparkpeople is now my daily meeting---no skipping! Being active in my Spark Teams and acting as a Team Leader for the SP Class of June 8-14,2014 and the 100 Days – Linda Spangle teams gives me the focus I need to stay on track despite life's many healthy challenges.
2. Be a positive participant—not a spectator! Read your Spark Friends blogs and leave positive encouragement. Develop lasting friendships that will carry you through all the days to come. Be the friend you want your Spark Friend to be.
3. I used to have Perfectionist thinking and if I went "off" plan or ate a "bad" food that was the turning point that led to a binge that lasted for days/months/years and a lot of weight regained, but now I realize I need to focus on being about 90% perfect and let the rest take care of itself. If I do eat something slightly off plan, I get back on at the next meal or the next day and continue on my path to goal.
4. Skips lead to slips! Slips lead to landslides, not just off the wagon, but under the wagon that is rolling over me crashing and burning! It's OK to have a bad meal occasionally; it doesn't have to turn into a bad day, let alone a bad week, month, year, lifetime!
5. The more active I become, the more my body not only performs better, but also craves fitness activity. In January I joined a Facebook challenge to have 40 hours of fitness within the first 40 days. On July 5, 2014 I passed 201 hours for the first 186 days of this year.
6. It's better to relose a pound than almost 200 of them!
Thanks for reading this. I hope at least one person who is in the same shoes as mine is inspired or motivated to walk this journey with me.
Onward & Downward!