So as I said in yesterday's blog, I've decided to tackle my daily weighin habit some other time. I'm focusing this entire Whole30 on my relationship with food.
Well this morning when I weighed in I was 181.2. That's 10 pounds down since last Monday.
I'm so happy to have found
www.whole30.com
because I think this way of eating will definitely help me reach my final goals before my wedding.
Which is four months from today! Woohoo!
Also, I'm starting to broaden my diet. I never used to like sweet potato. But let me tell you, with a dollop of coconut butter, it's like a decadent dessert!
Here's my dinner from last night. Porkchop, mashed cauliflower, asparagus and the sweet potato. So filling, so nutritious, and so delicious!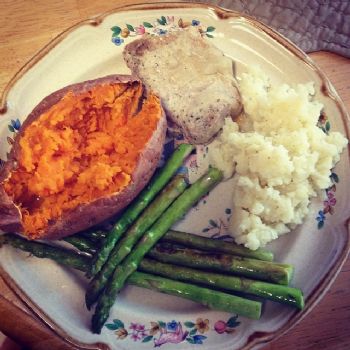 I'm having leftovers today for lunch!
I continue to have eggs with salsa every morning for lunch. I apologize if that's boring, but I've always loved eggs and have not problem with getting bored with food. If it tastes good, why not eat it everyday! I'm switching up my lunches and dinners enough that I'll be fine. I plan on making another tuna salad tonight, but making a lot of it, so that I can have it for numerous meals.
I haven't been working out much this week due to craziness in my schedule, but I really need to get back on that, because I'm sure I've got some extra energy from all this nutritious food. Maybe I will go for a run after I clean my bedroom tonight. I hope you all are having a wonderful week. I've got another wedding this upcoming weekend, but am so positive that I'll succeed that I'm not even worried.
Love you Sparkfriends!