....and so begins my quest to find yummy vegetarian recipes.
Last night's first try was Spaghetti Squash. I've never had it before, but it comes up everywhere as the new suggestion for a healthy and light alternative to pasta. It's low-carb and gluten-free, but even if you aren't concerned with your carbs or gluten, spaghetti squash is a low-calorie alternative to pasta. It's not heavy and holds up well with sauces and toppings without getting soggy. It's a beautiful veggie and delicious too, with a slight sweetness to the squash noodles that compliments any savory flavours you put on it.
I love my pasta. And since becoming a vegetarian I find I eat more and more of it. Which can be dangerous if you over do it. I'm not so concerned about my intake of carbs, as long as it's within range, but I am on a journey to get the very most out of my meals. Who wants to eat pasta every single day?
Okay, maybe I do.
But when you're watching your caloric intake, one serving of pasta isn't exactly the same as what you're used to. The days of sitting down and eating a bowl of nothing but Fettuccine Alfredo are gone. I know, it's sad. Thinking about saying goodbye to those creamy noodles...it's just, no I'm not crying I just have some bad eating habits in my eye, ok?
Spaghetti Squash could be everything I need to turn my frown upside down. So I was pretty excited to get cooking when I got home.
I started by putting my squash in the slow cooker before I left for work in the morning. 6-8 hours on low with a 1/2 cup of water in the bottom. When I got home I had a fully cooked squash. I let it sit for 15 minutes to cool.
Once it was cool, I cut it in half - which was a lot easier than I thought it was would be. I scooped out the seeds and guts, careful not to take much of the actual squash. It know it smelt good because my cat, Tiny Monster, was pretty vocal in her desire to get at what I had.
Once the squash was cleaned out, I took a fork and shredded the pumpkin. What you end up with is squash noodles.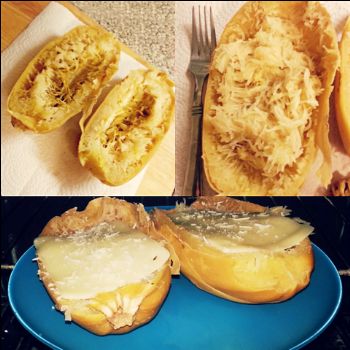 I put Alfredo sauce into each half and mixed it with the squash noodles, then sprinkled in some shredded parmesan, salt and pepper and garlic powder to taste. I topped each half with mozzarella cheese and set the plate inside the oven under the broiler until the cheese melted and got a nice brown to it.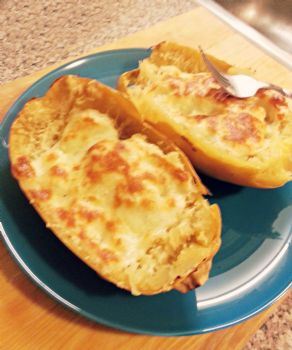 The results were excellent! Definitely a make-again recipe. Next time, my husband will get to have some too. It was bubbly, hot, creamy and gooey. What would have been easily a 600 calorie bowl of noodles was cut down to 375 calories. And best of all, vegetarian, without being boring!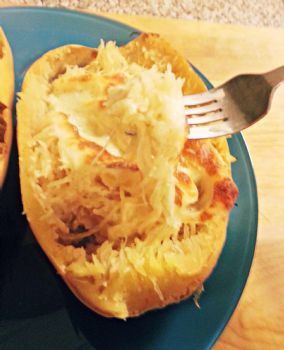 If you haven't introduced meatless meals into your week, this is one to try. Reducing your meat intake is better for your health, for the environment and for the animals. Check out #MeatlessMonday online for more ideas!