I love steam trains and so does DH for us it is reminder of our childhood and going on holiday. The smell and the sound of steam train is something special.
www.youtube.com/w
atch?v=gS4fQbmL1vo
So it was no big surprise when DH said he wanted to make a model rail layout the only problem is space. Living in a one bedroom flat means space is at a premium in other words the place is too small to have a decent layout. So the problem was solved by having a layout on shelves (micro layouts)in total there will be either 3 or 4 depending on the final plan.
He did have a layout before so had all the stuff packed away in boxes things like track, engines, carriages etc.
I am pleased he has decided to do his old hobby again and found a way of having what he wants in a small space. It gives him something to do and that is a good thing.
The fictional place is named Hambury and all sorts of things have been made for it this is the waiting room. By no means finished this is just the start of the layout.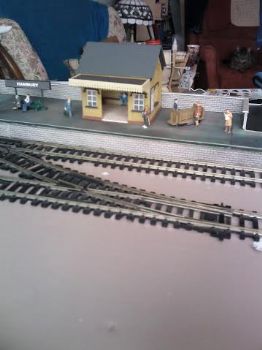 In order to have a decent layout all three or four shelves will be put together allowing the train to have a decent run and to allow for buildings and scenery.
So now we need to get the next section done so the track will line up with this one.
That means more sawing of wood, gluing stuff down and getting it painted ready for the track laying. So the place will be in a mess again not that it is super tidy with all the boxes of model rail stuff in the living room.
It will be lovely once it is done it is the doing of it that is driving me potty. I like things orderly, no clutter and reasonably tidy. I am not a tidy freak trust me I can be untidy as anyone else, I do however like to get the place looking nice.
The dining table is a mass of models under construction ready for the railway with glue paint and all sorts all over it, organised disorganisation or so I am told.
This is tidy compared to what it has been
With a large layout it does take ages to build but I had hoped with this being on shelves it would not take quite so long. My mistake it has been just over 2 months already and still no end in sight.
I have been told that by Christmas it should be all done, oh yes please I do hope so.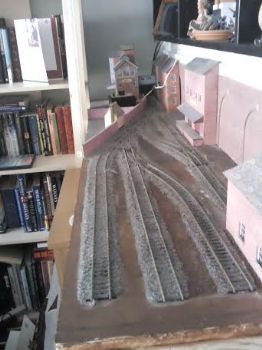 This is the first shelf still not finished as it has be lined up with the other shelves and then it can all be fished off with foliage etc.
I have decided that if you can't beat them then join them so I will be making trees and bushes later on to create a landscape. I help with the other stuff as well like gluing stuff down and getting tools out etc when the shelves are being done. So I am a handywoman and rather like helping out.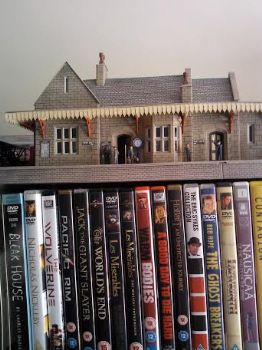 This is the station building that I helped to make there are lots more like this along with vehicles and people to populate Hambury. The time period is mid 1930's allowing for things like coal merchants and old fashioned milk carts with horses.
How does this impact on my exercise etc?
It means that I get up early so I can get my walking and chair exercise in before the day starts.
Housework is more deep cleaning than normal as I have to get behind the sofa and furniture that can be moved more often, trust me sawdust gets everywhere.
Tools are all over the kitchen when sawing and building the shelf up for the track is being done so the kitchen needs a good clean up afterwards.
So I get plenty of exercise whilst this is going on.
Meals are planned around what we will be doing so I make meals that can be frozen ready for the extra busy days.