Friday, July 11, 2014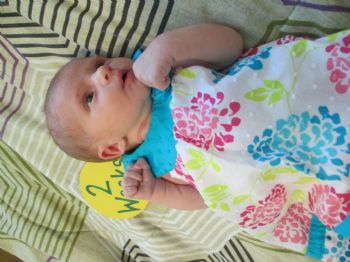 My Helena is two weeks old today. Momma doesn't feel too good today, so I got to hold and spoil her all day. At two weeks, I didn't think that a baby would understand what she was doing, but I'd swear that she does. She gives me this somewhat fake cry for me to get her up and then gives me a beautiful smile.
Aunty Sarah sent this adorable little dress from Alabama. She picked the perfect color of blue to accent Helena's eyes. She was such a wiggles when I was trying to get her two-week picture! Oh, I sure did fall fast and hard!