Week Twenty-Seven Weigh-In Day
Thursday, July 10, 2014
Another "good" week for weight loss, but I got an assist from a stomach virus: I've eaten very little (and fully digested less) since Monday.
I weighed in at 182 lb this morning, down 1.8 lb from last week and down exactly 35 lb from the start of the year.
(Actually, I weighed MUCH less than this, but it's not a number I trust since I'm obviously dehydrated. I'm just going with the last reasonable weigh-in I had this week, and we'll see what happens next week.)
I've had bad sleep all week, in part because of the illness, but also because last week my jaw decided to act up for the first time in ages. I have mild TMJ from a car accident in my teens...my jaw clicks like mad when I eat, but usually that's it. This week, however, it has hurt to lie down on my side with my face on a pillow. I know some of you understand this kind of pain and the way it can interfere with sleep. Ugh.
I've also not had proper exercise in a few days, so I feel weak and flabby. And guilty. But I just can't find the energy to move.
I HAVE done some yoga for my July yoga challenge, though. This might be the only thing that has kept me going.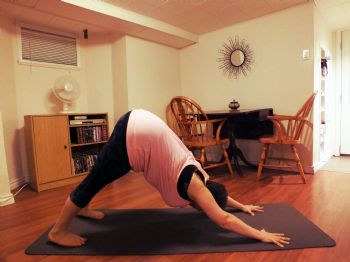 So here's to a better week ahead!