Wednesday, July 09, 2014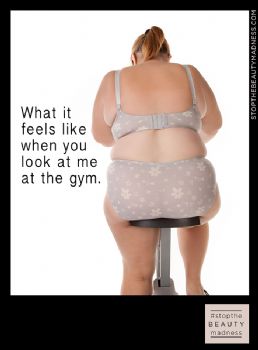 Is this how you feel when working out at the gym? Does just thinking about going to a gym make you feel this way? Does worrying about how others see you keep you from working out? Sometimes when I workout, this is how I feel. Especially if the gym is busy. And I workout in the company gym so I don't really have to deal with "strangers". Most of the time (I'd say 95% of the time) I don't even notice others while working out. But there are times, when my weight is up or I'm having a bad day, that I worry what others are thinking as I workout. I found this site today. They advocate that we women stop having unrealistic expectations for how we look and feel. They are NOT saying we can't continue to improve ourselves...we just need to do it FOR ourselves. Not for what the main stream society/media sets as "standards" for beauty for US. Take a look at the link below...and form your own options. And be sure to click on the Ad Campaign link at the bottom of the page.
"There comes a time when you have simply had enough. Enough of the impossible standards. Enough of the "ideal" image. Most of all, enough of the feeling of NOT ENOUGH when it comes to your own beauty. There also comes a time when an entire culture of women have had it. When blogs and ad campaigns and AS-IS selfie pictures start to change the rules of the game."
www.stopthebeautymadness
.com/

Not a lot going on here today. I'm at the tail end of a project at work, had a meeting with the campus activity committee (our Summer Sizzle picnic/BBQ is next week at work), got some gym time in, and just did some stuff. Like I said..not a lot happened today.

Talked to my daughter. She and the BF are talking and are going to get some consulting to see if they can work things out. I'll support what ever she wants to do.

Hubby is home today. He pulled something in his back while cleaning the toilets at work yesterday. I really think his company stuck the Union guys in these jobs to make it so bad to work there that they quit or they mess up and then they can be fired. I'm hoping hubby can stick out for a bit, so he gets his old position back. But we'll see.

So I did 71 mins in the gym today. My HRM was a bit messed up but I still felt good about what I did. And eating has been pretty good so far this week. Staying within my calorie range. Getting about 10K steps in each day.

Lets see..that should be about it. I'll be on my own for dinner tonight, hubby has a dinner meeting to go too. So everyone have a happy Hump Day..two more days until the weekend!