I had the best workout
Wednesday, July 09, 2014
My morning workouts the last couple of weeks have been nothing to write home about, although I have upped my running (yay, 'goal met') in anticipation of a half in September. And I have done a few more strength sessions than before (all of these babies count because I didn't do any before). But, boy, I kind of dragged through them--except for today.
I actually ate something before working out! Instant Quaker brown sugar oatmeal (the lower in sugar kind). Granted, not the best pre-workout meal, but better than none apparently, because I felt this way all during my run: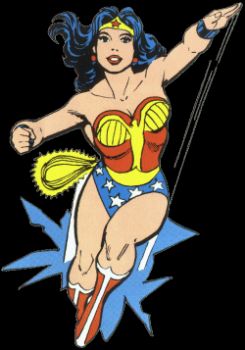 When DH and the dog met me at the door for a 3-mile walk when I returned, I still felt pretty good.
Fuel for the body, what a concept ;-).
Topic for discussion: Why is it so hard to find a non-salacious picture of Wonder Woman?