Hiker with Diabetes Needs Help!
Tuesday, July 08, 2014
Yes, I need some BIG help!
I just spent the day burning lots of calories hiking Mt. Monadnock.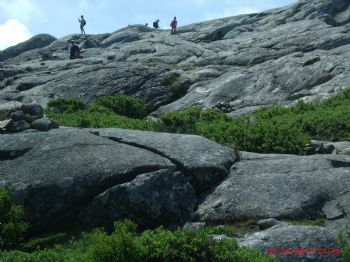 It was a 4 hour hike on a hot, humid day.
I ate a peanut butter and jelly sandwich during the hike. The only itme I eat such a sandwich is on a hike day. Now it appears that the sandwich threw off my blood sugar tremendously. My morning reading was 153-way high for me.
That's a shot of my husband John eating some Home Made trail mix. It is full of nuts, seeds and a few raisins. I don't think that the trail mix was a problem with my blood sugar.
What do other hikers with diabetes eat on hike days? I need to make a change.