Saturday, June 28, 2014
Here is the outfit I made yesterday for my grand daughter. I will make a few more outfits and hopefully she can start school with them. She will be with her mom's for 2 weeks of vacation time for her mom and then with us 2 weeks of my sons vacation time. So she won't be wearing the ones I make her for at least 2 weeks.
When the kids go to school it is not a month before they start out growing their clothes.
I read an article about not buying kids new clothes for school. Just shoes underware, etc. and school supplies.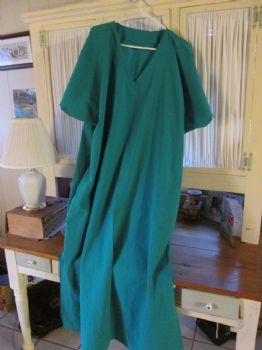 Here is the gown I made for my mother in-love. It closes at the shoulders so easy for her to put on with bad shoulders and not being able to raise her arms too high.
If you want to see how I did it check out
www.Nanasknoll.blogspot.
com
If you do not get the craft page just look under title and you should see the different blogs and click on it. I think it just goes to the craft page.