YAY!!!! I know it's not like a milestone or anything, but it's big for me and I'm proud of it.
My weight has only changed a couple of ounces so far, I'm hoping that next week will show a bigger loss. A pound would be nice!
I haven't been perfect this week with my calories, but I've been better than what I was doing. Having those huge salads has helped out a lot. I'm not able to eat the whole thing, so it's a free snack for the next day, which helps me when I'm hungry. It's free because I logged the whole thing the day before. ... right ????
I'm still nursing my migraine today, it's not as bad, it's more like just a bad headache that needs 4 Tylenol instead to just 2.
I got my pedaling in today, nice and easy. Only 7.6 miles in 45 minutes.
It's been a nice quiet rainy day here. No fighting with household items .... yet, it's only 2:30.
But I am going to share a funny with you ......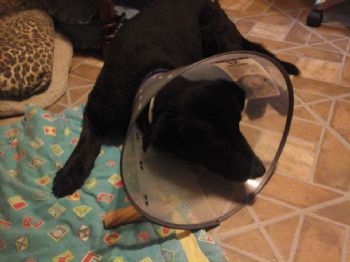 This is my Katie (she is usually fluffy). She has a spot on her tail that she won't leave alone. So for two weeks I've been playing doctor with it. The first week I just kept some salve on it that tasted bad, thinking that she would leave it alone - it's worked before. Well she didn't. So last week I started wrapping it up. Which isn't easy because her tail moves .... ALL THE TIME!! She's a very happy girl. Well that's not working. She has found out how to unwrap it and then lick it all night. So now she has to wear the cone of shame. If it doesn't start getting better by Monday I guess I will have to take her to the vets. I'm trying to avoid that expense. ... We keep laughing at her because she is being so pathetic!! She doesn't want to walk and when she does she runs into the walls. .... So she just lays around looking so pitiful! ... But I had to do something before she got it infected and they have to remove half of her tail. Katie without her tail would be awful and sad!
So that's it for now, I hope you are having a wonderful day!!
Becky