Happy 4 Years of Spark!
Friday, June 20, 2014
After 4 years with Spark, my journey to better health continues. I've undergone many positive changes in my life since my first day as a member of this community. And I have so much to be thankful. Overall improved health is my biggest accomplishment. To have blood pressure within normal range without medication, to remain alert and awake well past dinner hour, to hike for miles without collapsing, to bike for miles without stopping, to run 5Ks, to paddle upstream and downstream with the turtles, and to finally wear a size 6 after years of wearing size 20 was truly a dream come true. I continue to list goals and find ways to meet them. There is always "one more thing" I'd like to do. At the age of 60, I have the energy and positive attitude that helps me to continue on this adventurous journey of better health one step at a time. I could not have succeeded this far without having God in my life from whom comes my inner strength. The Spark community surrounds me with continuous support and encouragement for which I am so grateful. I wish everyone happy trails to reach their goals. My glass of water is lifted for a toast to each of you for success on your journey to better health!
BEFORE REACHING WEIGHT GOAL: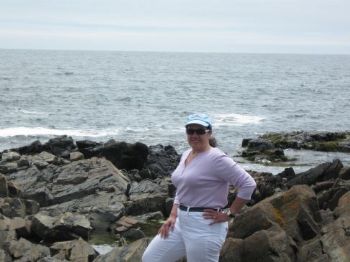 AFTER REACHING WEIGHT GOAL: