Okay, I have to finish this up. I've left my dear friends hanging. First of all on Monday, May 12th we left my cousins in Vervier, Belgium and I drove to Torgny, a little village at the Belgian/French border-not too far from Luxembourg.
Torgny is nestled in hills and has an old church and a real old Chapel, which is where my 93 year old aunt lives. She has a room above the chapel which she can no longer use, and two very small rooms and a tiny cellar behind. I didn't take many pictures of the chapel this year just of us visiting my aunt for her 93rd birthday. Here is a picture of my aunt, the Hermit wearing the prayer shawl I made her, didn't Erik take a great picture.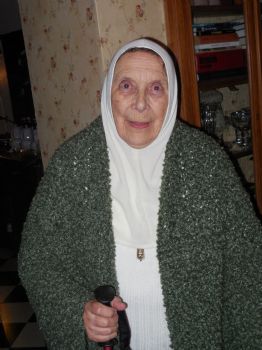 My aunt, my cousin-who lives in Austria-Marie-Thérèse and with whom we shared a Gîte/ a house, and of course me. We are in her main room where she sleeps and receives guests(family, friends and villagers seeking prayers or bringing supplies for her).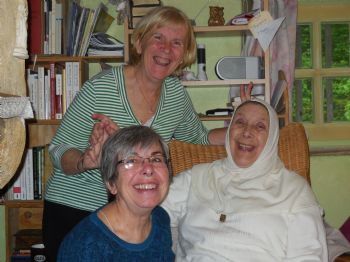 This is Erik sleeping on a little bench across from her chair.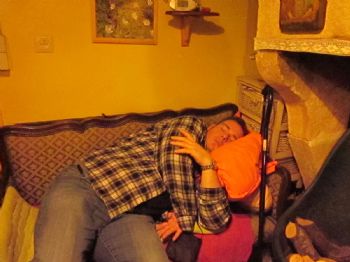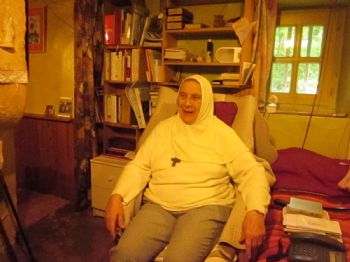 my indoor pictures are a little yellow, but you can see that to the left is a doorway, which is where there is a kitchen with a shower stall.
The next few pictures were taken in 2011 when I went for 8 days for my aunts 70th anniversary in the religious life. This way you get to get a better view of the area in and around the chapel-my camera was younger back then, like me. We were in the back garden enjoying tartes and the sun.
This is a picture of her room upstairs-very simple with a single bed, which is where I slept in 2011, the stairs were curved and uneven, I'm really glad she had a bed put in her room downstairs.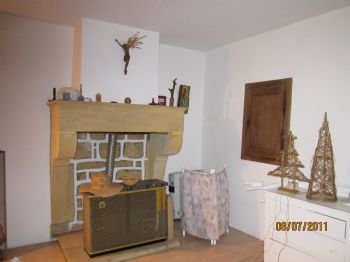 I saw Marie-Thérèse and my cousins who live in France that year too. Here is Philippe, he's 10 years my senior-he wasn't in Belgium this spring.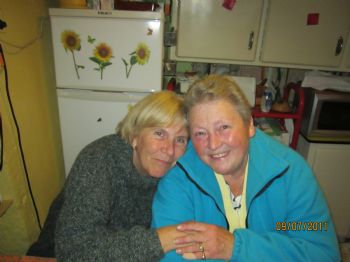 Philippe's wife, Anne-Marie and Marie-Thérèse sitting across the tiny table from him.
Here is a picture inside the Chapel, I was actually photographing the floral arrangements that day for the lady making them.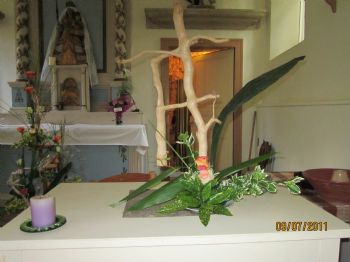 OKAY back to 2014's trip, Marie-Thérèse her husband Johann, Erik and I stayed in a Gîte-Le Mont d'OR for two nights. From there I took pictures of the gardens, the church steeple and some of the area.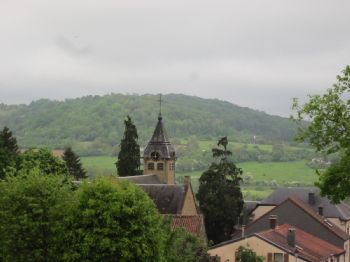 Looking out the back deck.
To the right of the first pic there was a pool. It was too cold and rainy to enjoy, we'll have to go back in the summer.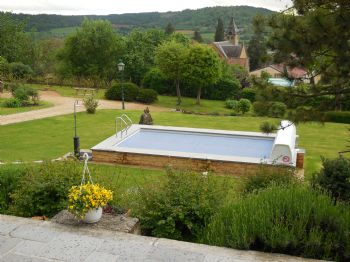 Marie-Thérèse standing in the doorway off the dining/family room.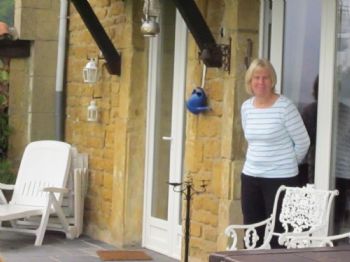 Here are three pictures inside that room: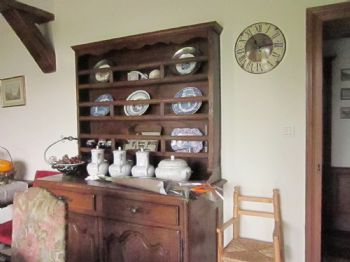 A built in that I absolutely loved. Found a book on Belgian Beers for Erik to drool over.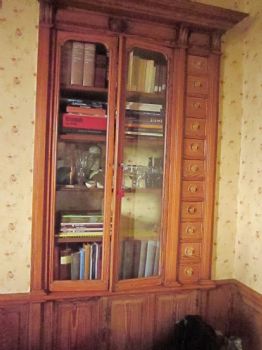 Marie-Thérèse and Erik enjoying a moment of quiet while Johann went to pick up our aunt.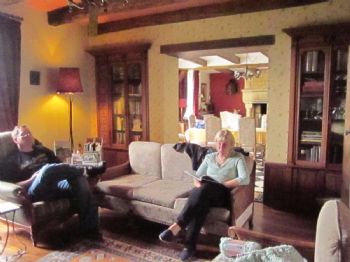 Marie-Thérèse & Johann showing tante Pigette some pictures on the i-pad.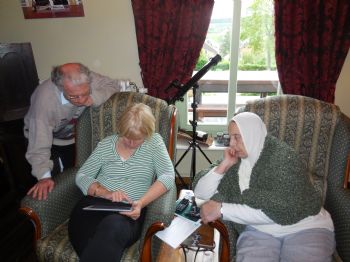 my room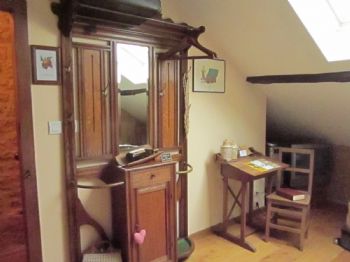 Coming down stairs from my room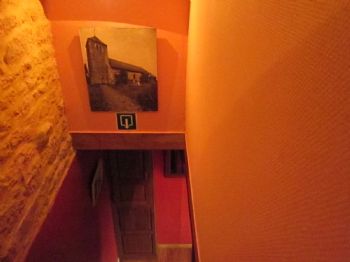 More outside: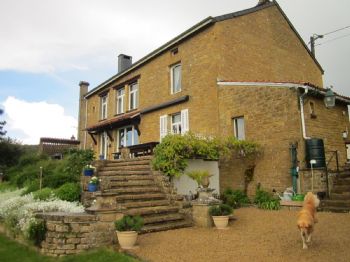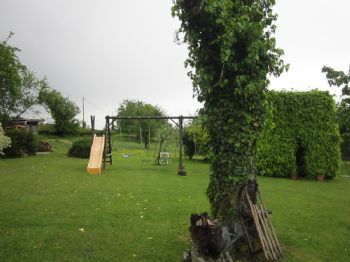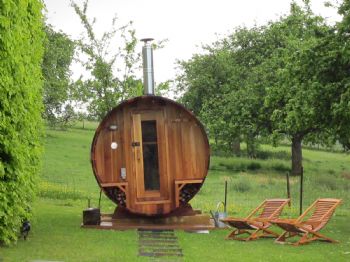 Place de Petanque, Boule, kind of like Bocce ball...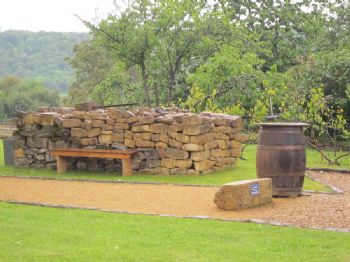 Tuesday afternoon we left our aunt to rest and went for a drive into France it was raining so we did not get out of the car, besides Erik's foot was hurting and it was too slippery on the pavés for him.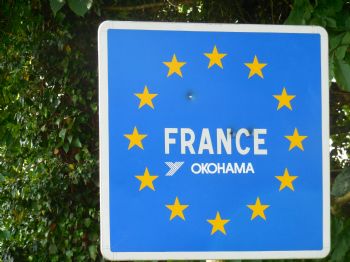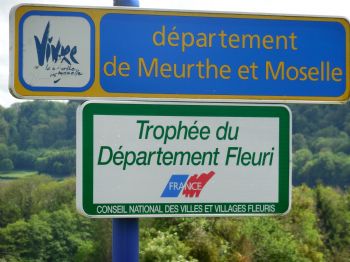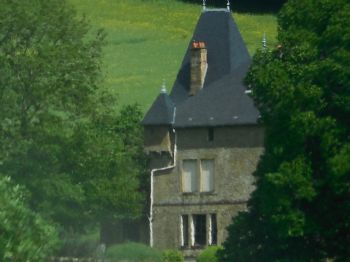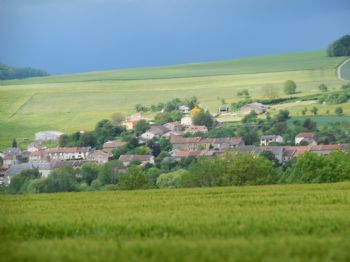 We were headed to Montmédy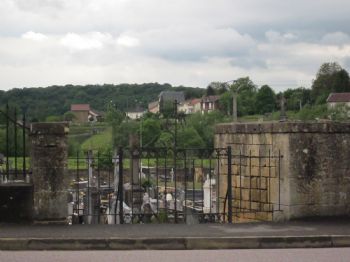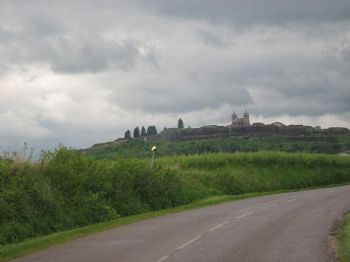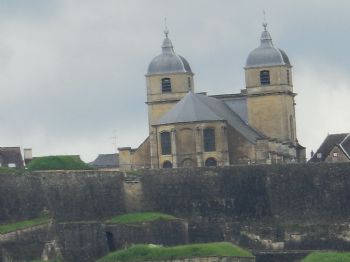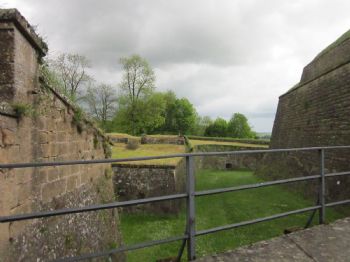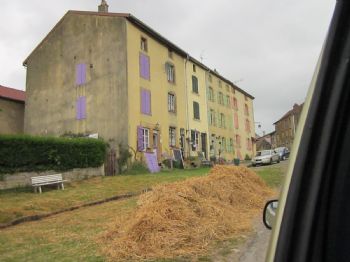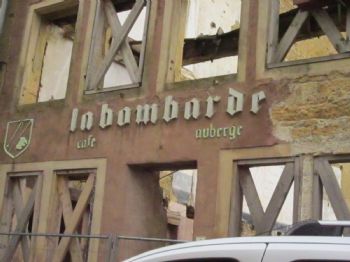 a auberge in ruins.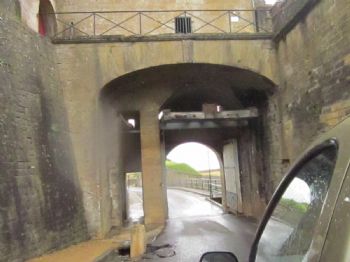 Okay, I'm sorry but I have to get my haircut and my tires rotated.
I'll do Austria and Hungary later and edit this since I don't know what happened with the pictures.
Love and prayers
Ginie