I survived the Holiday Trifecta!!! A big chunk of my job involves production details for holiday services, so the back to back of Easter, Mother's Day and Father's Day is a doozy. It's been a lot of fun, a lot of work and it took its toll on me. I was worn out from hauling 22 lb bags of ice, 400+ cans of pop and running down a myriad of details. I had to ice my knee for two days afterwards, but I'm feeling like myself again. Huzzah!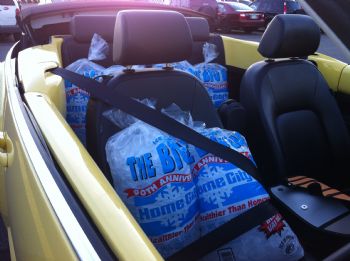 The IceBug Cometh! Some of the ice I had to haul around. And yes, I belted it in. The seatbelt warning thing dinged if I didn't.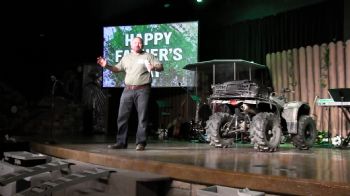 Our Senior Pastor (my boss) rode an ATV in during our manly Father's Day service. heh heh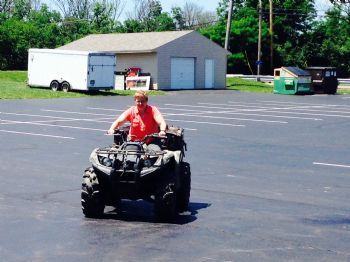 I got to ride it around in the parking lot. Looks adventurous, but it was more like "Driving Miss Daisy on an ATV."
One of the things I had to do to prep for the weekend, was clean out the garage at work. We needed space to store a bunch of chairs. It was a LOT of work!! Randy and I made a day of it and guess what we found? Remember last November, when I lost my FitBit while working on the Christmas set? Randy found it buried in the gravel! I don't know if it still works, because I gave my charger to a buddy a long time ago. But it was kinda cool that we found it.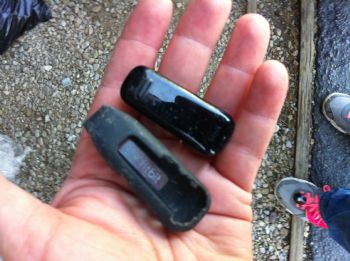 Poor lil FitBit.
I also found the gorilla costume I'd been missing.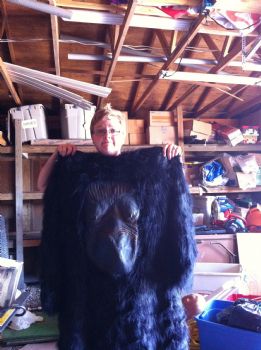 You never know when you might need one of these.
Here's a pic of me with one of the props for Father's Day. Yes, this is Randy's head. I walked around like this, yelling at the kids all day. They thought it was hilarious. Randy didn't find it as humorous.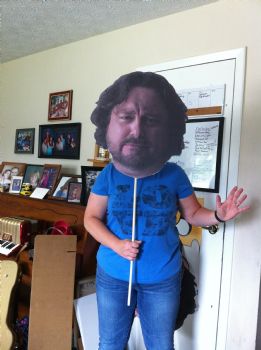 Everyone needs a giant fathead of their spouse.
But I survived. So this afternoon, I tried hOOping again. (Disregard the dead swing, giant weeds, and dismantled trampoline in the background of the video. The swing's going out to the curb, I'll get around to the weeds, and we're saving the trampoline parts for an upcoming set. We're resourceful like that.) But yeah, I can hOOp again! And my knee even felt a little looser afterwards. Looks like Bubba is going to be another photobombing hOOpdog. Now I can focus more on losing this next 25 lb--hooray!
I will leave you with this pic of Randy, lounging in his new chair and Audrey stealing the hammock that she bought "for him."
And this painting Audrey did of Bubba, because I think she's brilliant.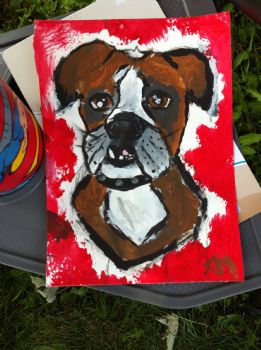 Bubba, Portrait of a Snaggle-Toothed Wonder
Spark ON, Brave Sparkers!!