Just back from 9 days very tough days in California. My beloved mother died early yesterday morning. She had a couple of days where she was semiconscious and knew I was there. My younger sister and older brother were there with me sharing the vigil for days at momís bedside. The other two were missing, and I am struggling not to resent them for not being there. I need to instead focus on the good things Ė a loving and kind mother, the caring caregivers, and that we were able to ease her suffering.
Mom was awake and alert for her 95th birthday at the end of May, but she has been very ill for a long time. She is in the arms of the Lord at last. She had last rites, and was awake and at peace for prayers from the hospice chaplain.
My mom wrote this short poem for the staff of her nursing home a few years ago at Christmas, before she became too ill to write. She was probably 89 when she wrote this poem. Iím reprinting it, to remember the good things about this long tough journey.
To the Nursing Home Staff
This season of Christmas, this month of December,
Is the best of all times for us to remember
You who work hard to make our life brighter
So the weight of our years seems a little bit lighter.
We can be cranky and hard to please,
But our worst complaining you handle with ease.
For your patience, politeness, your smiling ways
As you put up with us, we offer our praise.
For all the kindness and help weíve received through the year
Youíve grown close to our hearts,
Youíve become very dear.
For all your work and your warmth and your wonderful attitude
You deserve now and always our love and our gratitude.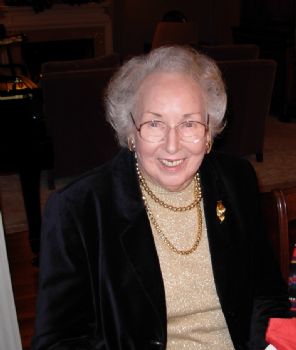 RIP Mom, I hope I can emulate your caring and forgiving attitude.