I got quite the surprise in my lunch today. I am on midnight shift this week and predictably, I felt myself starting to sink into a slump. It happens every time I rotate to night shift. The feelings of isolation and sleep deprivation all begin to take their toll and it can be quite overwhelming. When I was getting ready for my second 12hr shift, I found a note from my oldest daughter. It wasn't fancy, just a simple note telling me how much she loved and appreciated me and how she wanted to take me out for dinner once I get off nights. She even bought me a Subway with her own money.
It is amazing how something so simple can turn things around for a guy. I can't remember the last time I have gotten a simple note of appreciation in my lunch. I wrapped it up and stuck it in my pocket so when I start feeling down, I can pull it out and read it all over again.
I don't talk much about what I do here on Spark because I try to be upbeat and fitness oriented in my posts. After bouncing around doing various jobs I finally got one of the best jobs in the area. It's union, pays very well, and my family no longer goes without. Unfortunately, that kind of freedom also comes with a price tag. I have given up a normal life in order to provide. Life as a miner is filled with good times for sure but it is also filled with mud, mosquitoes, -30 windchills, grease, high voltage, heights, depths, and hazards that will send you home in a body bag if you are careless. Then there are the missed life-moments. Lots of them. There isn't a price that can match missed birthdays, parties, and moments with friends.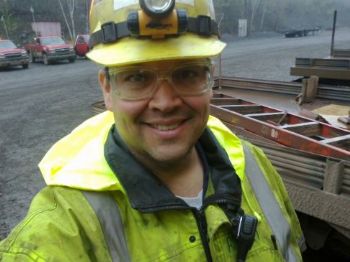 I listen to the stories of what happened at various events, eat leftovers, and fight pangs of jealousy as I read the Facebook posts of people with normal lives as they talk about the things they are doing on the weekend.... As I read them at 3am sitting in a truck waiting for a call out. Weekend? What's that?
While not wanting to be sour grapes, that does accurately describe a big chunk of my life.
Then I look at what my personal sacrifices bring for my family and I realize that it's worth it. I'm human and can fall prey to feeling sorry for myself, then I get a note like that and it makes it all better.
I work hard, I sacrifice, I press on, and I never give up because I am a dad.
I wouldn't have it any other way.
Love is strong.