Especially an off road marathon.
I arrived yesterday in my camper to stay overnight for this race. The young guys who run these events are super nice guys. They're always so happy to see me. I'm usually the oldest runner. He happily tells me he has something 'special' for me, walks away and returns with a laser printed plaque. It's for my being a constant supporter of the Masters of All Terrain events. Check it out.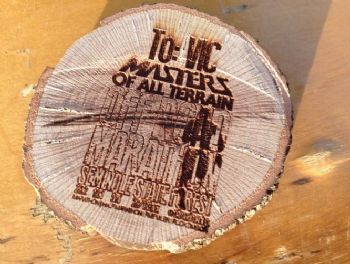 So, about the race. DW wasn't there, so a nice stranger took my picture before the start.The sun was just coming up.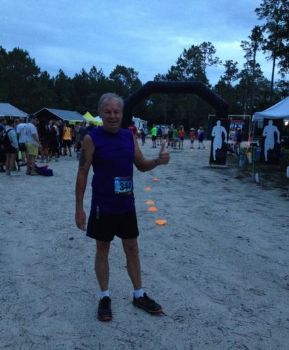 One word keeps popping into my head to describe this race. Brutal. The weather was hot and humid, it got up to 90 degrees at the end.
The first half went fairly well, I was slow, but felt okay, considering the course. There were lots of hills, loose sand and narrow trails. Very difficult course, and 26.2 miles of it.
Here's a worker cutting out part of the path for us: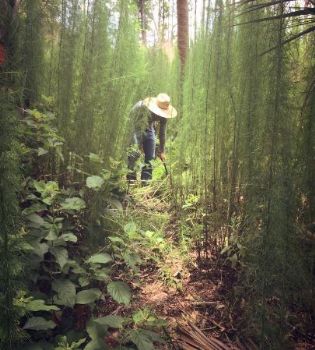 The course was a double half marathon, meaning we ran the half marathon, crossed the finish line, and did it again. At the end of the half marathon, my watch said 2:37. As it turns out that was way too fast for this course. At mile 15 or so, I started feeling my first leg cramps - in my inner thighs. Then the calves. Eventually the cramps were so painful I had to walk all the time. Each time I started to run, my legs locked up. I was in serious pain. I took ibuprofen, ate lots of bananas and was drinking a lot of water and gatorade as well. In retrospect, I probably should not have run that last 3 miler, in training, 3 days before the race. I should have taken 3 days complete rest. But, I'm still learning, and I underestimated the difficulty of this course.
Sad to say, it wasn't even fun. It's hard to walk ten miles and constantly stop to rub out cramps. At some point I couldn't even stretch, as this resulted in severe cramps, so I walked slower. I was determined to finish this race no matter how long it took. And boy, it took a long time. 6 hours and 26 minutes according to my watch. Wow! That's a long time to be on these old feet and legs.
On a plus side, there were a few other runners that I knew from other races, that were having a tough time as well, so I had a bit of company from time to time. Mostly, I was out there by myself, though. It can be kind of lonely on these trail races, just no crowd support, you're on your own.
I really got concerned more than once, that I might have to drop out. I was afraid my legs would just lock up and not let me continue, but I'd stop, stretch and rub and continue on. Spark friends, this was one difficult race.
Now, hold onto your hats. When I crossed the finish line, I asked the race director, "Dead last?" and he said no, there are still more out there. The awards had been handed out already, but he went and got a gold medal ribbon and handed it to me. Telling me the other guy in my age group is still out there on the course, so, "congrats you won 1st place".
Huh? 6 hours plus and still a gold medal? I didn't really even feel proud winning it, with such a bad time. What gave me pride is that my old body let me finish at all.
Well, this may not have been my best effort, but it is one I will never forget.
Thanks for reading and have a great day!