Wednesday, June 11, 2014
I am back to the gym! Last week I just felt drained all stinking week. When I take dance classes I can feel somewhere around 2/3rd of the class through my energy just starts to deplete like a plane slowly falling out of the sky. I take that as a cue to slow it down, well just slow it down. I hit a class this morning at 5 am. Then at 6 am I crawled back in bed and went back to sleep til 7 lol
I am so happy the pool is finally back, after a long day at work, getting in the pool and doing water aerobics is so rejuvenating. Thank goodness my swim suit is still fitting ok. Every time I go to goodwill I look for some suits and have yet to find any. I will find something as time goes on I am sure. Feels great to be back lifting too! I really want to stay in the best shape possible despite food.
Eating has been pretty bad at least I am turning to good things but calories are out there. As in this week I really wanted a milkshake so I made one. Then I bought one the next day. Must watch calories better! Last night was pretty good but that was only because I had an emotional fight with husband for no reason and went to bed hungry at 2300 calories LOL Poor poor me I might starve to death over here. The fight was over him coming home late cuz of work and they gave him pizza for staying late and he wont admit to it. I am a mess.
I finally took a baby bump photo. I am still not getting much of a bump for almost 18 weeks pregnant. But that's what I got so far.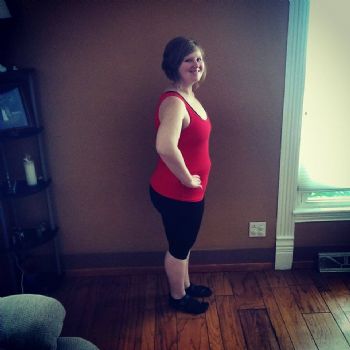 Ok this is irking me, as usual something always is these days. My mom keeps telling me how she carried all her weight in the front if you saw her from behind you wont know she was pregnant. WTF is that supposed to mean?? Do ppl usually carry babies in their hips and ass? No! So what your telling me is you hardly gained any weight. Got it, good for you. Me on the other hand I will be carrying the baby in my ass and anywhere else cuz I am just not so lucky. Thanks mom!