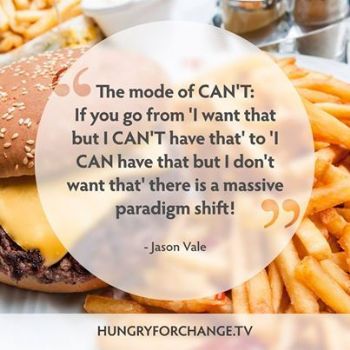 I can have it, but I DON'T WANT IT, is a major PARADIGM shift that has been happening to me. The tug-a-war isn't happening as often lately. The changes I have made in my diet over time are making it easier to SAY NO and to ignore temptations.

The cravings for Cheese has been a hard one to break and some sweets too. Eating cheese releases a morphine-like or opium-like substance in our brains, making it hard to break the habit. Lately when opportunity hits me, I don't feel like cheating. The results show. Yes, I can have it, but I don't want it.

The good side is winning.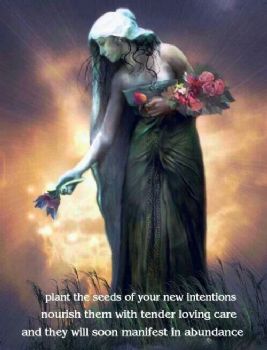 Much of it has been from eating a plant based diet. Lots of fresh fruits and vegetables, nuts, grains, seeds, good things. Creating healthy substitutions works. It's not hard to make things that taste better than what you were craving that hits the spot. It has released many cravings over time. Now even if I am tempted and I take a bit, I don't want junk anymore. It tastes different. It does not satisfy. Hubby purchased my favorites, Ding Dongs and Oreos.

Yum, well not so anymore.

Now they don't float my boat anymore. Cheese was the hardest thing to break away from. But since I have been making the home made Almond Hazelnut Kefir I am not even tempted. When I have broken off a piece of cheese, it no longer has the same hold on me.

I feel like the cravings have decreased their hold on me.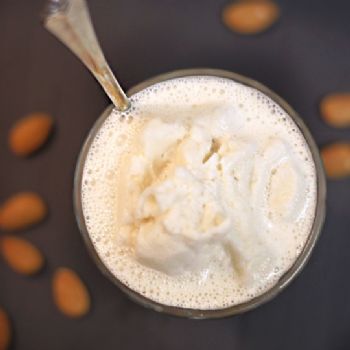 I think there is something good to the homemade NUT kefir. First of all I believe it is why I am breaking the cheese addiction.

Many days I would have a slice of cheese. Even though it's just a slice of cheese my body craved it. It's not a lot, but it creates inflammation in the body - something I don't need. It's a food I have tried to stop eating of for a long time. The Nut Kefir erased my desire to eat cheese. It doesn't taste as good anymore. Now since I have started drinking the Nut kefir I am seeing ++POSITIVE++ results in my weight. Off and on I have consumed the nut kefir. Not consistently, but here and there. One thing I have noticed on the days I consume it the scale almost always goes down anywhere from 2/10 of a pound to a pound.

Then my weight stabilizes in-between those times I don't have it. So far I am down about 5 pounds from adding the NUT kefir to my diet. It satisfies me when I make it into smoothies or consumed as is. I enjoy the slight uplifting, head clearing feeling it gives to me. I think the Nut kefir is what is helping me to break free from cheese cravings. Who knew the power of this drink? My digestion is improving. I didn't expect to loose weight drinking the kefir, since it is made from nuts. The results are surprising. When I looked up probiotics online they said specific probiotics can help you to loose weight. Homemade nut kefir has way more probiotics in it than taking a pill, so perhaps that is the reason. Fermenting it increases wildly the amount of probiotics you add to it. Hummm.

The results from drinking the nut kefir is better than taking probiotics.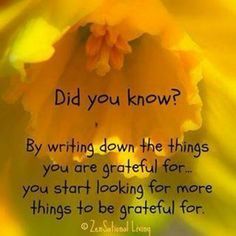 This morning I went outside and picked some fresh BLUEBERRIES straight from the bush. OH YUM !!! They were warmed up by the hot sunshine. The berries burst in my mouth as I bit down into them. They almost tasted like they had been seasoned with a dash of cinnamon. It's like eating blueberry pie one berry at a time, fresh from the bush. The flavor is so much more intense than store purchased. I have GRATITUDE for the small pleasures in life, the happiness they bring to me.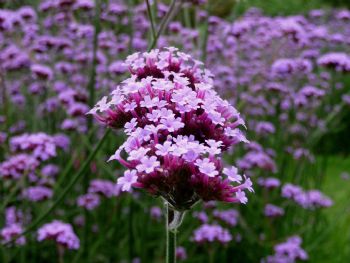 As I ate a-la-fresco, I noticed hundreds of yellow finches surrounding me.

They are attracted to the purple flowers I grow every year. They love the Deep majestic purple butterfly bush and a tall Verbena/Purpletop vervain /Verbena bonariensis, that waves in the wind. Every summer they spend their days sitting on the flowers blowing in the wind, teasing the cat, and singing. It's like having a symphony play while ate. Live music.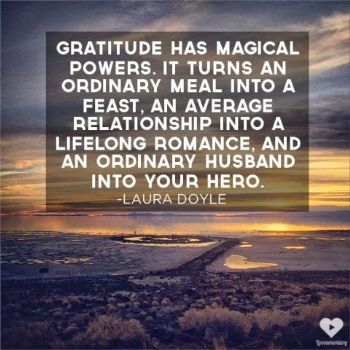 Reaching deep inside me, I realize that I tend to have lots of GRATITUDE for the small things in life. When I focus on having gratitude, the day is brighter. The world seems happier, magical, beautiful.

Foods have more flavor, music is more enjoyable. Flowers have a beautiful magical sparkle that only shows if you get close to them. Kind of like fairy dust sparkling and glistening. GRATITUDE can change your outlook in life. So many people I have met, been friends with don't have gratitude in their life. When they look at things they don't see the sparkle of life that I see or the beauty. When I have talked with them they say it is because they don't take time to appreciate the beauty. They have become blind to it. I have come to realize that how they view the world is like having blinders on. When they open their eyes and look with heart felt gratitude their world starts to fill with BEAUTY and PEACE. Perhaps it is just me and I am alone in thinking this way? All I know is having gratitude make life a JOY for me.
Does gratitude affect you in the same way? Please share.