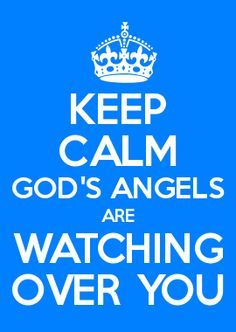 I sure hope they are, but I know deep in my heart they are always watching and protecting me even if at times it doesn't feel like it.
I'm sorry that I haven't been able to respond to you all in a timely manner. There are several things that are preventing me from associating with you all as much as I would like.
1. Here at work, I am working alone in the office. Sometimes I get a lunch & sometimes I don't, it just depends on the day and how many people call in.
2. My MIL has been in the hospital last week and I was out most of Tuesday with her, for those of you not familiar with the situation... My husband and I are the ones who deal with her health care and everyone else gets her time and attention. I'm not bitter just tired that they don't help us out (she was dehydrated, disoriented, and had fallen the night before but no one called to tell us any of it and OH by the way she hadn't eaten much since Saturday) she gets a tiny bit better and is out checking on the daughter who knew she fell but didn't say anything. *SIGH* it's just so frustrating.
3. I've been going to the Y to do either do Zumba or walk for a bit. And for those of you that missed it, I actually cried a little bit during and had a full blown melt down after class. What happened you ask???
This is what made me cry....

Yup. A mirror, the room where Zumba is done is filled with them!! On this particular day I was super tired, we had been running around doing things for the new car we had just bought the day before & the kids were hounding me to go (not really a bad thing though) and I reluctantly went anyway. Looking back maybe I should have just walked on the treadmill instead but I took myself to Zumba. At one point, I was tired and my feet were on FIRE but I kept on going the IT happened.
I'm shimmying and shaking like the instructor was except the low impact version and I catch a glimpse of this HUGE person in the mirror!!! Are you serious??? Is THAT what I look like??? Tears stung my eyes (still do as I type this) and kept wiping them away until class was over. I tried to get out of there as quick as I could but Sarah the instructor (we both work for the clinic) came over to me and I started blubbering like a big ol baby!! I mean it's not like I don't know I'm heavy (bottom mostly my thighs are HUGE and my lower legs are big but not like my thighs) I'm trying to talk to Sarah and Lord bless her she is a doll but at that point I'm sure she was thinking "What have I gotten myself into??"
We talked and she used to be heavy too but not like me heavy. I know it takes time and effort, it didn't show up overnight and it's not going to disappear like that either but I was just so stinking upset that I couldn't hold it in.
I believe that truly was my rock bottom. I've done better since and I have gone back to the Y and I have done Zumba except that I stand in the ONE spot that doesn't have mirror. I did catch another glimpse of myself on Friday but I didn't freak out LOL!! I did have a Spanish speaking lady approach me about some powered stuff that they sell at a grocery store if I was interested in losing weight. From what I gathered from her it sounds like a laxative, she said it makes you "go alot". LOL thank for the offer but I'm good.
I found this prayer earlier and it truly describes how I've been feeling lately pulled in a million different directions.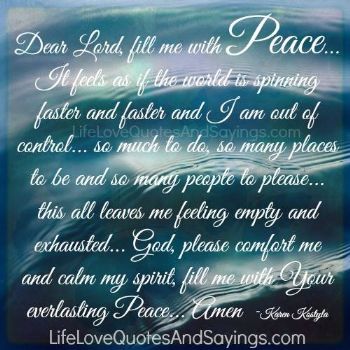 Geesh all that and I didn't even mention Dad & his cancer or the glasses that the eye mart has managed to botch for the past MONTH!! Dad isn't able to drive or read since he sees double, he is counting on Mom for EVERYTHING that he is able to do but can't because they keep messing up his glasses and still can't get them in!! For over a month now we have been playing this game: Your glasses are in oh but wait, it's not the right prescription. Sir your glasses are in, but wait we cut them wrong. Sir your glasses are coming, oh wait not really we had to send them off a specialist so that they are done correctly. Seriously??? What is the big freaking deal about getting his glasses done???
ARGH!!!!!!!!!!!!!!!!!! Ok, well there is my crazy, insane life in a nutshell. I hope al of my SP friends are doing well and aren't offended because I don't get back to you all quick enough. Please hang in there, I promise to try to get back to you all sooner rather than later.




to you all.
I know I have to relax and ....