Two weeks from today I, along with five others, will be driving from New Mexico to Bluff, Utah where we'll spend the night before beginning our three day kayak trip down the San Juan River. The plans are all complete, reservations are all made, permits are in hand, gear is packed, and new tires are on the car. Yes, everything is going exactly as we had hoped when we began making these plans over a year ago. Except one thing. Tommy will not be with us.
Although Tommy did not kayak, he was always supportive of me and my son. He often shuttled us to local rivers and would wait patiently for us at a take-out point to pick us up and deliver us safely home. He was excited about this vacation and he was excited for us. He planned to go along and shuttle us to the San Juan River in Bluff and then pick us up three days later in Mexican Hat, Utah. He loved that area and wanted to spend those three days sightseeing and relaxing, just doing whatever he wanted, and then spending the remainder of vacation with us in Moab, Utah. Unfortunately, his battle with cancer came to an abrupt end shortly after we began making our plans.
With preparations now complete, I find myself with much more time to think about Tommy and how much he wanted to go with us. It makes me sad that he isn't here, that we won't be hearing his laughter, or even listening to him complain about the traffic on I-40. However, when I launch my kayak from Sand Island in Bluff, Utah, I will be flying a two-sided flag on the back of it in memory of my best friend and soul mate. My hope is that he and Thor will be standing high on Muley Point, one of his favorite places, looking down over the San Juan River and smiling.
The pictures below are what will be on each side of the flag I'm making. I've already printed the pictures on cloth. The only thing left to do is to spray them with a water sealant and then sew everything together and attach it to the dowel.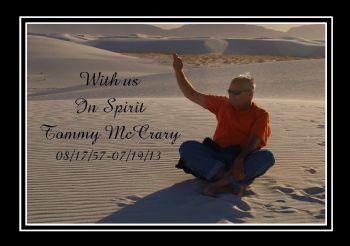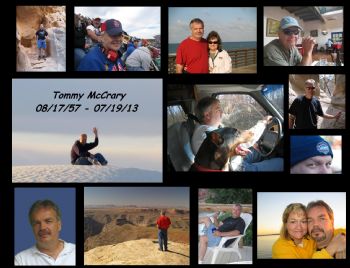 We're going to have a great time, but there will also be an empty spot by our campfires at night. I know he will be with us in spirit, but God how I wish he could be with us in body also.