Open to changing your body you need to be willing to let go of what you THINK you know about what it means to have a fitness physique.
You do not need to do 3 hours of cardio a day and in fact doing so can be VERY unhealthy and metabolically damaging.
You do not need to live off of tilapia and asparagus
There are no aerobics classes
You do not need to avoid dietary fat
You do not need to opt for the "low cal", "low fat", "no fat" or "sugar free" versions of things.
You do not need the colored weights. You do NOT need to lift light!
Special K is not a breakfastDiet Coke does not count for hyrdration
You do not need to live off lettuce
You do not need to under eat all the time
You do not need to "no carb", "low carb" or "carb free" it
You do not need expensive gadgets, heart rate monitors, fancy computer programs or the latest Dr Oz detox to get the body you want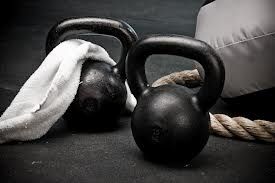 INSTEAD, you need to
Eat at levels to support your activity but not promote bodyfat
Eat carbs (the RIGHT kinds)
Eat fat (the RIGHT kinds)
Eat lean proteins
Hydrate with water
Pick up a barbell. A kettlebell. A sandbag. A tire. A dumbbell. I don't care, but PICK UP HEAVY WEIGHT
Master the basics. The pushup. The pullup. The squat. The deadlift.
Don't think of "cardio" as being confined to the elliptical. Think of plyometrics, sprint drills, hill runs, prowler pushes, sled drags, tire flips
Get intense. IF you're training heavy GO HEAVY. If you're doing sprints pound them out!
Abandon long duration cardio and try to rely mostly on plyometrics and HIIT for the "cardio" component of your training. Or use a barbell. Clean a barbell 50x. You'll sweat trust me.
Do burpees.
Reduce or eliminate refined sugars completely (not fruit but doughnuts and the like)
Rely on whole natural foods for your primary source of fuel (no bars, pre packaged items etc)
Stick to the outer isles of the grocery store
Think lean meats, veggies, fruits, nuts, seeds, etc
EAT! Resist the urge to reduce calories, cut macronutrients from your diet or resort to other drastic measures.
Until you master solid nutrition and proper training don't waste your hard earned money on a bazillion different supplements or other "get fit quick" fixes
Train for YOU, at YOUR level, for YOUR goals. What works for your neighbor works for them, great. You need to do what works for you.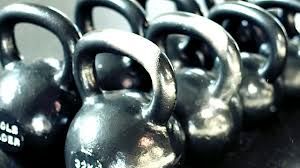 Eat real food. Lift real weight. Get real results. That's the bottom line. No gimmicks. No pills, powders, or potions. Eating lean, nutrient dense natural foods and lifting real weight WILL put you in the feminine, muscular, tight body you're craving ladies.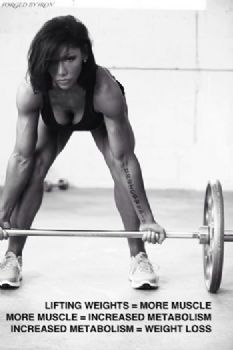 I promise.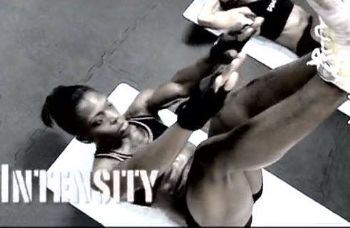 Now grab a barbell, and get to work
Allison Moyer
www.alli-fitness.com
www.predator-diet.com
www.fitpaleo.com