Despite being excited about my breakfast this morning, I couldn't get out of bed! Hopped out just in time for work and luckily, my exciting breakfast was already packed in a to-go container (because it needed to be in something airtight), so I just took it with me to work! This morning was Overnight Oatmeal Attempt #3...and it's getting a little better each time around! I added some strawberries to the mixture of greek yogurt, oats, bananas and chocolate chips and they definitely helped add some sweetness. However, the meal isn't quite where I want it, so next week I'm going follow advice from my Sparkpeeps who commented on my blog and try adding another sweetener and also try melting the chocolate chips on top, yum!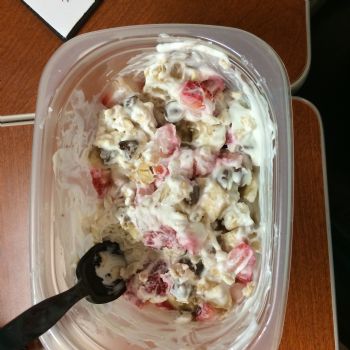 AM snack was a Peach & Greek Yogurt- this time I tried Honey Flavored, and that was too sweet! I can't seem to win with this yogurt! I need to try adding my own honey, then maybe i can better monitor the sweetness.
Lunch was a catered buffet at my job...free soda! And I didn't have a sip, woot woot! I had a steak taco, some house made potato chips, a few bites of pasta salad, and then I took the caesar salad and some more steak that was intended for the tacos and made a steak caesar salad! I also had some watermelon for dessert! For me, this was eating pretty darn light! I was really proud of myself and my resistance, until I looked around a table full of skinny people who's plates were piled high with a Hamburger or a Hot Dog AND a Taco...all packed with condiments! I got really frustrated, seeing their packed plates made me feel deprived and jealous that they can all eat so much and be so skinny! I went back to my desk and started calculating my calories, and it was at least 600, and that was after I skipped the soda, had fruit for dessert instead of cookies or brownies, passed up a hot dog or hamburger, and pretzels as well! At that point, I also made the decision not to eat my afternoon snack, or else I would've only had 200 calories left for dinner! It was a small consolation this afternoon that while everyone was moaning and groaning about having ate too much and feeling uncomfortably full, I wasn't in that category for once! Per advice from fellow Sparkmember,
CRAZYWRITER, next time I'll wrap my taco in lettuce instead of a tortilla to shave off the calories- it's a great idea!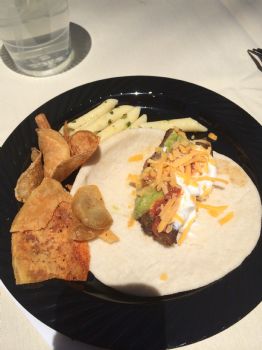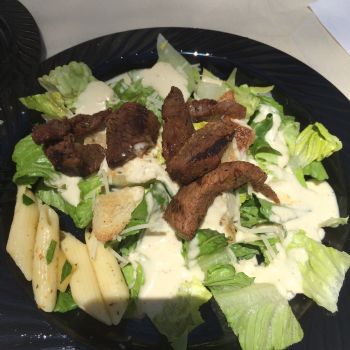 At dinnertime I was out and about running errands with a friend and picked-up an Italian Chopped Salad for dinner, it was super yummy!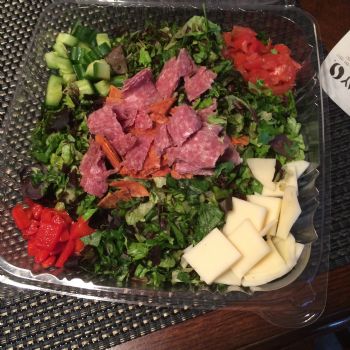 Today, I was in a not-great mood...I have a lot on my plate this month and I think the stress is catching up to me. I felt good about most of the food choices I made today, but frustrated when I looked at what everyone else was able to eat, which has happened to me before, so I'm making a commitment to myself to stop comparing! I need to do what is best for my body and stop comparing it to everyone else's- it's isn't going to change, I won't wake up one day with crazy amazing genes that make me ultra skinny or a super fast metabolism. I need to focus on me, so at mealtime, I'm going to start putting on blinders, it doesn't matter what my friends eat or how their bodies make food magically dissolve away, I need to focus solely on my body and what it needs.