This morning, my husband woke me with the terrible news that our dear little Sonoma had passed away in the night. Little Toto, her best friend was by her side.
She was laying on her side, and he thought, "free tummy rubs," and bent down to rub her, but it was too late, and she was gone.
This was a shock to us. Sonoma just turned 5 years old, two days ago.
She was eating, drinking, playing, and getting tons of love every time I sat down. She seemed so well, but the vet said that she must have had a heart attack.
We found her about 4 years ago. She was starving, a cat with fur stuck to her bones, she was spayed and declawed, and left to fend for her self.
The vet had thought she wouldn't make it, but my daughter and I took turns trying to get her to eat, rubbing her teeth with a little moist cat food until she could finally start opening her mouth to eat. She turned into this big, gorgeous kitty, a Raggamuffin, a funny, loving, sweet, precious girl. How fortunate we were to have such a loving little kitty in our home.
How any one could leave her to die is beyond me.
In spite of her mistreatment, she never lost the ability to love unconditionally, she would look at you with those huge eyes, and you could just sense her her saying, " I love you, I know I can trust you, you will always love me, and care for me."
Good bye for now dearest Sonoma, you join Roof Top, our little RT, Nubbie, Morris, Cody, Bo, Kayla. Our kittles and doggies that have gone before us. Toto misses you, so does Dingy. We love you.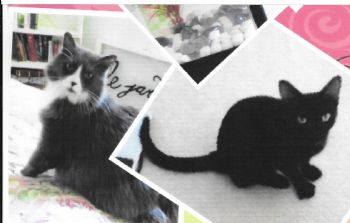 This is our dear Sonoma with Toto, best friends forever, even in death.