Happy Birthday to Old Dad
Wednesday, June 04, 2014
When I was growing up I often saw my mom consult the Better Homes and Gardens Cook Book. Naturally when I started cooking for myself in the '60's I bought myself one of those books with the red gingham cover. In 1996 I saw that BHG had added nutritional info to the book, so I bought a new one, and was surprised to see so many different recipes and changes to old standards.
When hubby asked for a pineapple upside-down cake for his birthday, I got out both books. I've found that sometimes the old one has a better healthier looking recipe, while often the newer book is the winner. This time the old version had shortening (like Crisco) in the recipe, while the new one used real butter. Now, I am no way saying that my cake was health food. (Left to my own devices it would have been whole wheat with extra wheat germ, but it was HIS birthday and I knew he wouldn't go for that. Even that would be too much fat and sugar for everyday eating!) I do think I created a cake with fewer additives than a store-bought one and that the butter was a better choice than Crisco.
For me, it was about a quarter serving of cake with extra fresh pineapple. Delicious. The grandkids wanted extra cherries, so at least I got rid of the rest of the jar.
Here's hubby celebrating his 73rd: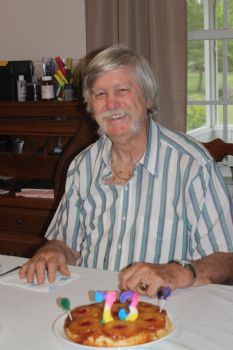 Our daughter, son-in-law, and grandkids came to enjoy and sing Happy Birthday to Old Dad! So it was good cake and a good time!!