Hello Dear Friends!
Well, it's been almost 3 months since I last was on Spark. I am doing much better than I was. I have struggled with the Lupus attacking my lungs, and my kidneys, and I have had to take 3 types of steroids to fight the inflammation. Although I am still on the steroids, I will be seeing one of my specialists this month, and hopefully I will be able to lower the doses, and eventually get off. My face is as big as the moon, one of the side effects, as is my middle.
BUT!!!!
I am not giving up. I am heavier than I was, and I was discouraged, but I have decided that I will just keep trying, and now that I am able to move a little it will be better for me all round.
It's tough knowing I am 20 pounds heavier than when I started Spark, but a set back shouldn't be the end of the world, and it isn't.
I'm owning up to my weight gain, some of it is steroids-they make you really hungry, some of it is my other meds, some of it is inactivity, and some of it is the ice cream I ate.
Enough about me, I hope you are all well. I have prayed for you, and thought of you. Thank you to those who sent me messages, and virtual gifts, I have enjoyed sitting here today, and reading them. You are a blessing to me, and so many others.
I pray your family is well, your pets too, and I can't wait to hear how you are.
Blessings, and prayers for health, and success. Your friend, Dee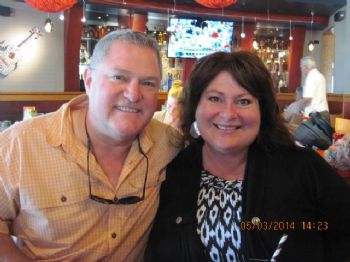 This was taken recently, and it's my reality, but not my destination!