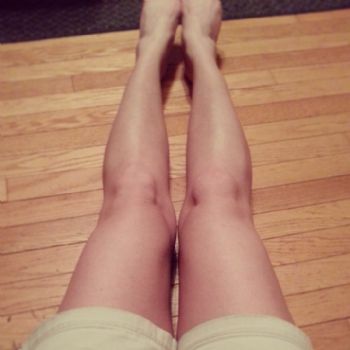 I'm sure everyone has that person in their life that their words of critism crippled their ego.
I've been insecure about my legs since 17.
Puberty hit and I got curves.
I went from thin to this random mass of odd lumps and bumps.
I felt gross and ashamed when my body morphed from girl to woman. It was validated by an ex's comment when I first sat in his passenger seat and the disgust in his voice when he exlaimed, "Good God your thighs are fat!"
I lived in a home full of girls with a step-dad that never spoke unless it was important. I didn't know there were ignorant males. I innocently took this boy's comment as gospel.
I was a freak.
I met SNOWANGELSPOCK within the year and he worshipped my curves. By this time my self-image had been damaged and even though he said he thought I was attractive and he wasn't a guy to pamper egos, I didn't trust him. I thought he was hiding his repulsion to protect me.
A couple of babies later, I had a generational photo done ith my daughter, mother and maternal grandmother. Upon receiving a copy of the photo my grandmother said in reference to me, "Having children is no excuse to let yourself go. Her knees are huge!"
She had 9 kids. I waived her total disregard for my feelings and that her pregnancies were healthy and her postpartum diet wine and accepted her words as gospel.
It has taken me 21 years and I feel I am beautifully and wonderfully made.
For 38, and five kids later, I did not expect to feel comfortable in my skin. In 2010 I just hoped to feel less miserable and not wear the thigh area on my pants to dust from friction.
I know they're lookin' good at the top of my b.m.i. I thought that little gap between my thighs and knees was a deformity or sign of anorexia in my teens. I am 157 and 5'9". I'm comfortable in my skin. I thought it was because appearance compared to my obese form. My legs are how I remember them from before I battled obesity.
They're older and have more mileage; yet, I have pride and thankfulness. It's not the shallow feeling I expected when a certain vanity was achieved.
I was thankful for what God gave me. I have pride that I'm taking care of th egift of healthy, and strong legs. I can take care of my family because of them.
P.S.
I am sorry for the poorly written blog. I'm having trouble typing on my teeny phone. Although the Good Lord is allowing me to enjoy healthy legs I have yet to figure out why I got Shrek sized fingers... ;)