I love pictures to tell the story. Feel free to view the pics and skip the long blog.
I had an easy time getting to East Lakeshore Park, which is a new lifestyle center close to the Yacht Club and Navy Pier by Lake Michigan. When you are in the park, you forget you are in a large city, even with all the runners that were milling about. The lakefront here is gorgeous. We could not have asked for better weather. It was 50 and part sun at the start of the race, and 60 and sunny when I crossed the finish line. I only fought the wind off the lake one time, around mile 10. Otherwise, the lake was unusually calm this day! Yes! I have biked this path before, and normally you fight your way out, or back.
I can feel the excitement of this crowd just looking at it. The Chicago Spring HM was very well organized. I was assigned to corral H, but hopped into corral I instead since I was not going to pressure myself to do 2:30. I learned a valuable lesson: Everyone is AHEAD of you, and no congestion of runners after the first qtr mile which was the case if you were in a middle corral. It was genius, and something I would do again in a large race (this one was 4500). It took 33 minutes for my corral to start. That gave me plenty of time to warm up, albeit the coziest warm up I have ever done.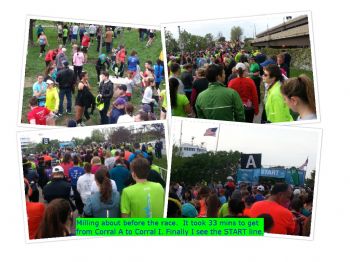 Once I crossed the start line, I was really enjoying the view. The view of the Shedd Aquarium with the cherry blossoms was a first for me, as I had never seen this view (top right below) in all my years of visiting the museum campus. That stint really set my run for a fun and relaxing race.
Now this was a repeat course, down and back, and sometimes that is annoying. This race, I did not mind (no wind), and on the course back the Cityscape was gorgeous. I never tire of this view of the skyline and it just became more magnificent as I closed in on the finish line. The lower left pic below is a shot of Soldier Field (what I call the toilet bowl after renovations!).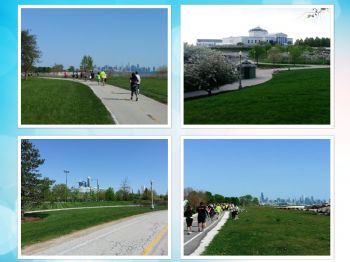 The picture below is the break wall along the shore, and this spot has significance for me. I was 3 / 4 miles from the finish when I toed the cement and instantly fell to the ground. I had no time to catch my balance. I instinctively rolled over like a hound dog, and the momentum sprung me to my feet, and kept running. Few scrapes, no bumps, (later a sore ribcage), but I sure dodged a bullet thinking of any one bone I could have broke. It was poetry in motion, and I never wish that to happen again. I was trying to sprint in hopes of waking my body up for the last mile. Another lesson learned!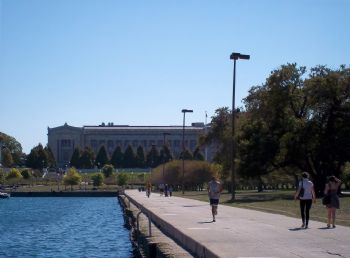 I so enjoyed myself after the finish in 2:41:53. PR by 8 minutes. I was 63 out of 79 in my AG, so I have a lot of work to do. I was real happy I was able to stay ahead of the 2:45 pace group, and I had energy at the end passing many of my co-runners who did not have anything left to give. I was smiling, even after my tumble. GREAT medal! Breakfast was served by Goose Island, our local brewery, and they even had a vegetarian line (it was the "express" line). Best pancakes ever, with scrambled eggs and veggies, potatoes and more veggies. Watermelon to top it off. Yummo! This race was eco-friendly with recycling bins, shoe donations, and a flower station.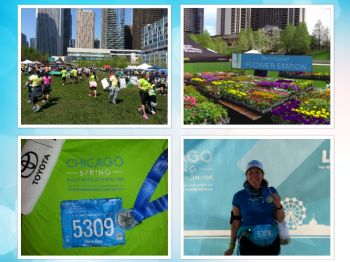 Great pictures that were posted on facebook of the event: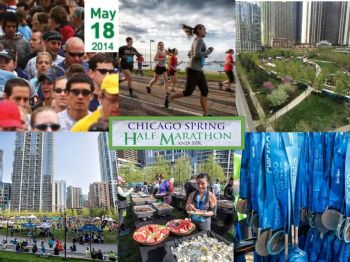 **Training prep: I chose the ChiRunning Half Marathon Intermediate plan. I focused on technique and distance for 8 weeks, and very little speed or hill work. The longest run was 13 miles, and it allowed for a simulated run at pace race for 60 mins 2 weeks before the race. I tapered for 5 days. I Consumed carbs for two days prior to race.
**Race Day prep: I was up at 4:30, no easy task. Chose a NoDoz instead of coffee. My drink for breakfast was beet juice. I consumed a bagel with peanut butter, all down by 5:45. I arrived at the park by 6. I used will call (extra $$) for packet pick up, checked my "clear" bag, then headed to porta-pots. 20 minutes later I am on my way to the waterfront starting line. Corrals closed at 6:45. I ate a half banana 40 minutes before I started the race, and drank most of my vitawater zero (with chia seeds added), donated my sweatshirt just before the corral started the race.
Porta-potties a plenty at every waterstation, always a long line. I was glad I did not have coffee or need to use the johns. Water stations were in 5 spots, so I used them 10 times. That was really nice to have. I did have a small water bottle tucked in my waist band just in case I became overheated. They offered Gatorade and water at every station. I took mostly water, as I used 4 Huma Chi Gels for fuel. I tried Gatorade once, and it was too sweet for me. They did offer GU at one station which I grabbed for another day.

I am doing the official Chicago Half Marathon in September. Below the difference will look like this! For this one I will be training hard!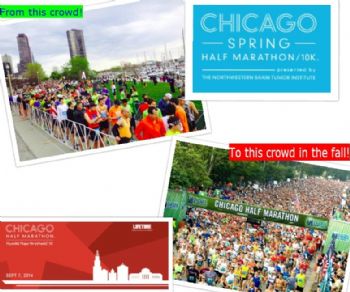 Note: This was my first Chi Half Marathon. I have logged my successful ChiRunning Race here:
www.sparkpeople.com/mysp
ark/team_messageboard_thre
ad.asp?board=1565x9192x57304546
Thanks for allowing me to share this wonderful experience with you. Ciao!