Breakfast: Cottage cheese with peaches
Called for: 1 cup low-fat cottage cheese with 1/2 cup canned peaches. Toast 1 slice whole grain bread with 1 tsp butter and all fruit jam
What I did: Used 1 cup 2% cottage cheese and cut up 1 peach instead of using canned peaches. Forgot all about the toast....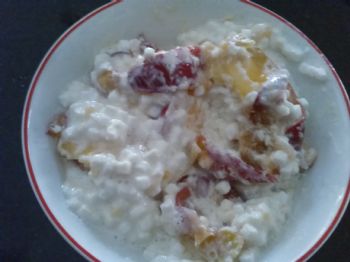 Lunch: Souped-up veggie soup
Called for: 1 serving vegetable soup and boost with chopped herbs, pesto, hummus or ricotta cheese and server with a whole grain roll.
What I did: Re-heated up a serving of homemade tomato soup and put in 1 tbsp of homemade pesto, served with a frozen whole wheat roll I had made months ago. I love batch cooking that are freezer friendly!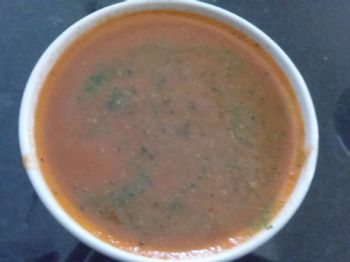 Dinner: Maple glazed salmon with couscous
Called for: 1/2 cup couscous, 1/2 tsp maple syrup and soy sauce, 4 oz salmon fillet and 1 cup asparagus
What I did: Got almost 5 oz salmon fillet, topped with the maple and soy glaze, used 1 cup of green beans that I have instead of spending more money on asparagus while the green beans run the risk going bad before I get to use them, and re-heated a cup of couscous that probably started out as 1/4-1/2 cup dry couscous.
This was so simple and so easy and so quick to make! Salmon came out PERFECTLY! Who knew all I needed to do was cook for 10 minutes at 375, also used fresh salmon instead of frozen.....that also might of had a hand in things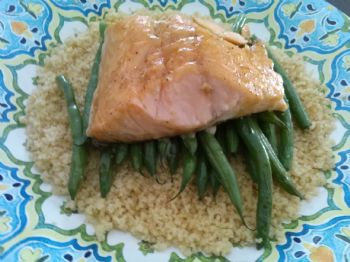 Snack: Toasted a slice of sprouted grain bread and spread on 1 tbsp of organic concord grape jelly