So there was this Buffalo Jump Run on Sunday. I literally waited until the last minute to sign up. It was suppose to storm and rain all day. And even though I run in the rain on my own, I wasn't too happy about having to PAY to run in the rain. But Sunday I woke up and saw how beautiful it was and decided the hell with it, I'm running. So I got my stuff together to get out to the site and register before the races started. But I couldn't find my phone holder thingy for my arm and there was still a chance it might rain. I didn't want to take the chance of my phone getting ruined because I wanted tunes while I ran. So with a little pout I took off for the site, which is about 15 miles out of town. There were 4 distances to choose from when I got there. 1/2 marathon, 10K, 2 mile, and the brand new 3 mile Pishkun Gauntlet. I did the Gauntlet. For those that don't know what a "pishkun" is, it basically a hill that is flat on top, the indians would chase the buffalo up the hill and then off the cliff, viola, food for like a month. So while all the other runners went on the highway for their run, the gauntlet went up the pishkun. Here is a really bad picture of the pishkun.
Behind the building is where it flattens out.
Here is a web pic from a distance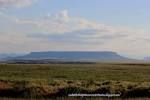 So up the hill we went. It was a good 20 minutes of up hill too. I though my quads would revolt on me, since we did about a mile and half straight uphill just last weekend. But they managed. Saw 2 snaked, one rattler off to the side and one bull snake that I had to jump over. Reached the finish line with a time of 31.06, a PR!!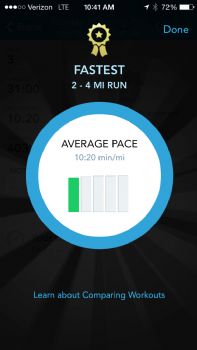 Was super happy! Decided to stick around for the award ceremony. It was still pretty nice, though the clouds were rolling in, and the Hubs and kid were not at home so why not. Usually don't hang around for those things, just race and go home. So glad I did. I got 1st in my age group!!!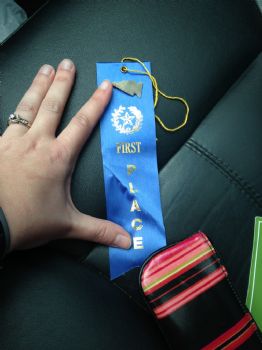 Got my nifty blue ribbon and an arrowhead! But they could have gave me a handshake and I would have been happy lol.
Now to just start training for my 1/2 marathon in September. Nervous, but it's now or never. Is it weird that 13 miles scared me more than 4.6 obstacle race??