Sunday, May 18, 2014
The Essential Baking Company's Gluten Free Super Seeded Multi-Grain Bread.
Unlike many GF breads, it is not as heavy as a brick. Yes, it is dense, but that's a given. It has an almost nutty taste about it, but without nuts. In fact, it is gluten free, nut free, soy free, dairy free and GMO free. While it IS better toasted, it is able to stand alone without dressing it up too much. I absolutely love the seed coated crust and it has a pleasing texture.
I can definitely say, without a doubt, it is the best GF bread I have ever tried and I will be definitely be buying it again. I even liked it enough to have a toasted piece as a snack. I didn't even love 'real' bread enough to do that.
It may not be available in a lot of markets, as it is from an Artisan Bread company based in Seattle, but it IS branching out and can be found in many locations across the US. Our Costco just started carrying it. We are very fortunate to get a lot of Vancouver and Seattle specialty products due to our location. If you can find it, though, consider giving it a shot. It is $8.99 for two loaves. The loaves are rather small, but if you are only providing for one Celiac sufferer, it is more than enough. The unopened loaves can last for 2 months on the shelf. Once opened, it needs to be placed in an airtight container and used within a week.
An open loaf with two slices missing.
Close up of the seeded crust.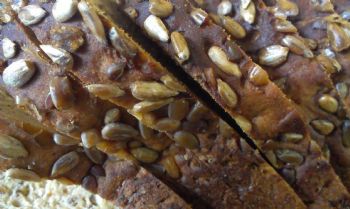 Company logo so you know what to look for.