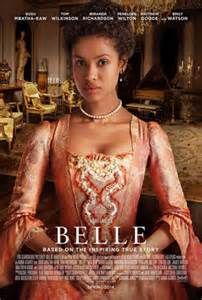 This being the 20th Friday of 2014 it means I have seen a minimum of 20 new movies and "Belle" without a doubt is, so far, the best movie of the year. It combines a beautiful love story with a realistic look at the society of that time plus a law suit that could change history. "Belle" is based on a true story.
There are 3 main story lines in the film, each of equal importance, so to say one is the main story is misleading. The first introduced story is that of an illegitimate daughter, Dido Elizabeth Belle, (Gugu Mbatha-Raw) of a white British naval officer, (Mathew Goode) and a Negro woman who dies when Dido is still a child. The father, Sir John Lindsay, acknowledges the child as his and brings her to his uncle Lord Mansfield (Tom Wilkinson) and aunt Lady Mansfield (Emily Watson) who are already raising another niece Elizabeth (Sarah Gadon). Dido and Elizabeth are treated as equals by their uncle and aunt but not by society.
We see that Dido will have a substantial dowry from her father and Elizabeth will have none, it is the latter who gets many privileges while the latter, strictly because of being a mulatto, cannot enjoy a dinner with guests but can join the company and that is just a minor consequence of society of that time---the 18th century.
Another story line involves Lord Mansfield, as the Chief Justice of England and Wales, having to rule in the Zong massacre case that could change the course of slavery and bringing it to an end or continue what the British Empire has always done and is accepted as the right of the privileged.
The third story line is of the love affair between a vicar's son, John Davinier (Sam Reid) studying the law and Dido.
Okay, full disclosure--I am a cry baby and couldn't stop crying the last 30 minutes of the film!
Like most British films every part is cast perfectly from Miranda Richardson who will forget color when it comes to ensuring her sons (Tom Felton and James Norton) future to Penelope Wilton as the 'old maid' aunt who is a governess to the girls.
While Sam Reid shines as one of many of Dido's suitors it is Gugu Mbatha-Raw who is definitely the breakout star and there is no justice if she doesn't win many awards for this film. Aside from beauty, eyes that reflect everything she is feeling and the absolutely mesmerizing way she holds herself she will not fail to touch you.
Only the basic facts of Dido's life are known--be sure to stay for the credits and what happened to the people involved--the director Amma Asante who wrote the script based on a screenplay by Misan Sagay makes an almost perfect picture.
THIS IS A MUST SEE MOVIE AND YOU MUST SEE GUGU MBATHA-RAW!