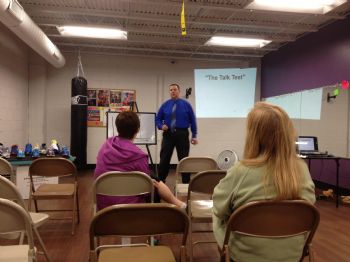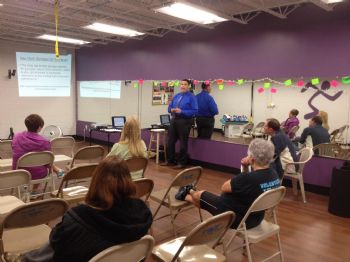 We had a small group for our initial couch to 5k kickoff and it went really well. This has been a long time in coming, everything that has gone into turning this idea from a mere day dream to a physical reality has been worth it. It often takes far more energy to get something off the ground than it does to keep it going and this is no different.
The presentation covered the following:
-My story and background
- Why train for a 5k?
- Introduction to run/walk training
-The science behind the effectiveness of run / walk training
- Basic periodization and it's importance
- The fitness progression
- Avoiding over training and the top 4 running injuries
- The importance of proper running shoe fit and selection.
When I get off night shift, I'll put some of this into a blog for our beginning runners out there.
Today I did an eval on one of my c25k clients to determine her run/walk interval and her best training pace for aerobic base training and best recovery between sessions. We discovered during the process how much better she felt at a training interval that was best suited for her current conditioning and she told me later how she was always sore and her knees hurt before because she was training at a pace that everyone else was doing and not what was best for her...
#WIN
Next week I'm meeting with other clients to get their pace and schedules set up and the. Next Saturday is our first group run :)
It's kinda hard to fathom how fast things have progressed toward my goal of starting a running group and coaching/training clients. What started off as ... Wouldn't it be cool if I did... Became reality because of consistent dedication and small steps that leaned toward what I ultimately wanted to do.
I love being a trainer.
Friend Me On Facebook :)
www.facebook.com/#!/robe
rt.wadhams.7