I'm in full beat myself up mode right now and I need to snap out of it. The wedding that I've been talking about was this past weekend, the one where the bride asked me to do a reading in the ceremony. I guess I did well, people I obviously didn't know (since I pretty much only knew the bride and groom and a couple of the wedding party) kept coming up to me after saying what a wonderful job I did. More importantly, the wedding was wonderful, the bride looked gorgeous, the weather held out, the speeches made everyone cry, and overall, it was the perfect day (or what looked like it) for her and I was so happy for her!!
I got to re-wear a dress that I wore for my cousin's wedding a few years ago. The dress has one strap so I wanted to do my hair sweeping on the opposite side, it came out like this: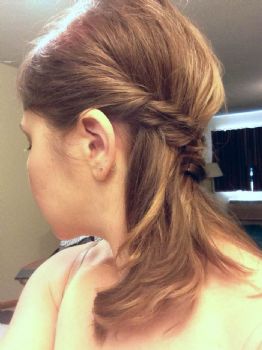 I got several compliments on my dress and even the bride told me I looked gorgeous, and I'm like what are you saying, not as much as you!! I have a hard time with compliments. Pictures came out and all of it went right out the window. If you've followed me for some time, you know I am incredibly self-conscious of my arms, and here's why: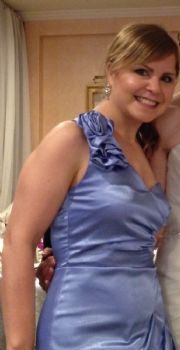 I have a hard time looking at this. I literally hate my arms. Even my dress that I got so many compliments on looks all weird and bunchy and I'm like what were people seeing? I pretty much just think I look awful. I am TRYING my hardest to blame my inability to pose properly for pictures and that I don't ACTUALLY look that big. Here's another pic of me at yet another wedding we went to recently: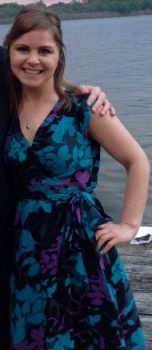 I did the 'ole hand on my hip elbow sticking out bit that is most flattering on my arms, but it doesn't always look natural, so I opted not to do it in the one above. Obviously that was a big mistake. But it has me thinking, how in the world am I ever supposed to get a flattering picture that is not the contrived hand on hip pose? Literally, it makes me dread being in my friend's wedding party or heaven forbid it actually happens, my own wedding, where there will literally be hundreds of pictures taken of me. Any advice on posing for pics?
I gained 4 pounds over the weekend which I'm sure is mostly bloat (I rarely drink alcohol two nights in a row) and eating badly. On Saturday before the wedding we found this brunch place near our hotel that was amazing: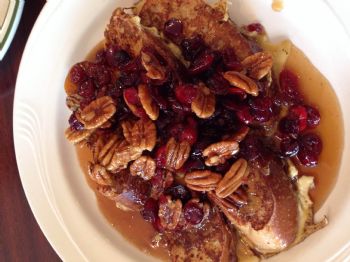 Yeah, that would be fluffy French toast with craisins and pecans and brown sugar sauce. To. die. for. and I ate almost ALL of it. The wedding then had a candy bar which I proceeded to finish my bag of on the flight home. Mother's day was good, I hadn't been able to make it home in a few years to see my mom but I did this year since the wedding was close, and she was very happy to have me and my sister home. We spent all day drinking tea and sitting out in the sun...

it was just lovely. Then of course being wonderful mom she is, showers her love (love=food) on me and I was sent home with copious amounts of baked goods, cornbread, banana bread, and oatmeal raisin cookies. Talk about carb overload.
I keep thinking about how thick my arms look. I don't know what will help. While I am up a few pounds from where I've been and where I'd like to be, I don't think diet and exercise will help me. I don't know what to do. Right now my plan is to get strict with my calories and continue working out, and no alcohol until my birthday (june 3).
And here's a picture of my baby, I had my friend cat sit her when I was gone, pretty sure she fell in love with her. She tends to have that effect on people :)