I spent most of the week on track. I had one night where my steps fell short of the 10,000 goal, but most other nights I exceeded it.
I was a little concerned about the weekend with Mother's Day but decided to celebrate and just do the best I could.
Friday night we went to the WhiteCaps baseball game (which is our local team, a farm team in the Detroit Tiger system). It had rained most of the day, but by evening, the rain rolled on and we had a decent night to watch some baseball. I spent the evening with my daughter's family and my son. I had a grilled burger and managed to stay in my calorie count - but my steps were a bit shy of the 10,000 mark!
Saturday, my daughter, granddaughters and I loaded up in the car to go to neighboring Holland, MI. They are having their tulip festival. The weather was wonderful. The girls wanted to take in the parade. The Holland High School Band is know for wearing wooden shoes and playing Tip Toe Through the Tulips. The girls got a kick out of the klomping, wooden shoe wearing band!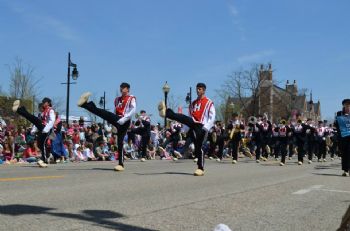 After the parade we visited the park to look at some of the tulip plantings.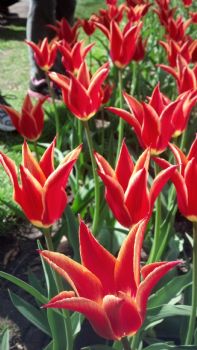 We visited some of the local shops and of course some of the food vendors - the girls were dying for corn dogs and elephant ears. Grandma Boo was able to pass on the corn dog and just have a taste of an elephant ear. Phew!
After that, we wandered over to Hope College, where my daughter went to school. She wanted to show the girls her school.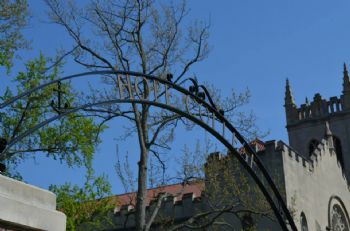 Of course everyone had to pose on the anchor --- what a great mother's day gift - all my girls together!
And one of Kayla, Lily and me being silly.....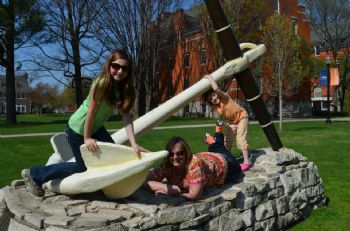 I spent Mother's Day with my son Jack. We watched the Tigers game on the back porch, grilled some dinner and topped it off with a walk around some of the ponds at a local park. What a perfect weekend!
And then this morning as I opened my eyes, this view greeted me...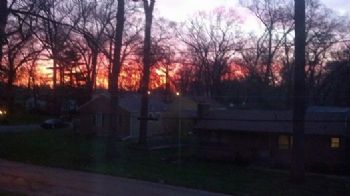 I bounced out of bed and hopped on my treadmill and walked a brisk 2 miles before work.
Doesn't get much better!
Now the storms are rolling through, gray skies, thunder, lightning, and hard rain off and on. Hoping to catch a break between storms to get in a walk outdoors or else it will be on the treadmill again for me.
Looks like most of the week will be cloudy and rainy. Glad I had a wonderful weekend to carry me through the gray days!
Enjoy everyone!!!