Last Sunday was Bloomsday. We stayed at a hotel about .8 mile from our starting area. The Hubs was in the starting group behind mine. It's okay to move back, but not forward. If you start before your color group starts, you will not be timed. I'd been warned that the crowd is so thick I'd walk the first mile, so I figured I'd start with The Hubs.
I planned to walk to the start. The Hubs went back & forth about walking or taking the bus. Ultimately, he agree to walk. The bus would have required almost as much walking. With 45,000 people on the course and thousands of spectators, Spokane gets really crowded on Bloomsday.
We stood around in the staging area for nearly an hour, but our group got the "Go" sign pretty close to the targeted start time. Twenty minutes later, we were at the start line.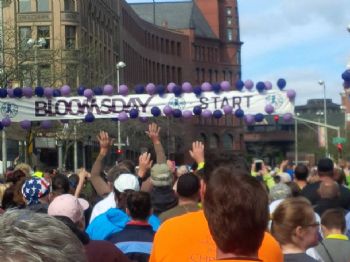 About a half-mile later, I kissed The Hubs and we proceeded to run our own events.
I'd been warned that running Bloomsday - which is a 12K - means running at least 15 km because you're constantly running around people. I believe it! I gave up on any kind of "plan." Whether I ran or walked was dictated by the crowd and my heart rate. People were pretty polite though: Often, when I ran through a gap between two people and accidentally bumped one of them, the person I bumped would apologize.

As if it was their fault I bumped them, even though they clearly have the right-of-way.
I ran up the first hill, which isn't much of a hill. But then came Doomsday Hill.
I used to hate riding my bike up this hill. It's three-quarters of a mile, 6.5% grade. I only ran to get around people. There was a giant vulture decoration at the top of the hill and lots of "Congratulations!" banners. At the top of the hill, there's less than two miles to go, and no more hills. At this point, the course is through the West Central and Felony Flats neighborhoods. There's a real celebratory and party atmosphere along the course from this point on. (There were two dozen musical acts along the course, in addition to folks blaring stereos and providing other "entertainment.") I missed the folks handing out paper cups of beer in Felony Flats.
I was really feelin' it by this time. At the start, there was tightness in my upper outer quads. No idea why, other than the 19+ mile bike ride home several days before. There was no reason for my legs to be tired. Once I started running, that feeling dissipated. Unfortunately, I felt it every time I walked. It got to the point where I didn't want to walk because my legs hurt, but I didn't want to run because my legs hurt.

Obviously, I pushed through it.
Past the courthouse, the course makes a final turn to the south, down the hill and to the finish line. I knew there would be photographers at the finish, so I did my damnedest to look happy. In fact, I was delighted to see that finish line! There's a video of me approaching the finish line, high-fiving everyone along the course. The joy on my face is genuine. I earned my finisher's t-shirt.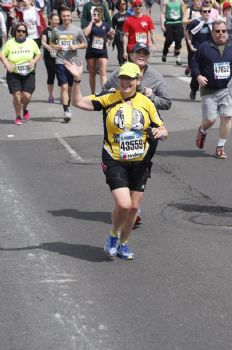 My final time was 1:43. I'd estimated I'd finish in 1:45, so I was glad I met that. (That's how the organizers sort the start groups.) The Hubs finished about forty minutes behind me. I stood near the finish line, doing dynamic stretches and moving constantly. I saw him approaching the finish line, prepped my cell phone to take a picture, and completely missed the opportunity to take a picture of him. Fortunately, the event photographers got a couple of good shots of him.
We headed back to the car. That may have been the longest mile I've ever walked. Both of us agreed we were really at our limit. We refueled at Dick's Hamburgers. (If you're from Seattle, Dick's is a treasured cultural icon. There's one Dick's in Spokane, and while it's been there forever, I never got the impression Spokies love Dick's the way Seattlites do.) I asked that we stop every hour or so on the way home so that I could walk around a little bit. The Hubs agreed. I put on compression socks, and put my feet up on the car's dashboard. I never do that, because it's incredibly dangerous. In this case, I decided the benefit of elevating my feet outweighed the infinitesimally small risk of catastrophic soft tissue damage if we were in an accident on the interstate. My legs are still a little stiff, especially if I sit for too long. I managed a pretty good time (14 mph) on my ride home last night, though.
My bib number is up on the wall in my office. We're planning to do this again next year, but we're going to splurge a bit and stay at the Davenport, which is right next to the course. My goal for next year is to be twenty pounds lighter and twenty minutes faster. But I'll still go to Dick's afterwards.

www.ddir.com/