Monday, May 05, 2014
Well, I cannot say that I "ran" the 5K yesterday... but I did complete it!


My 5 year old daughter's best friend was doing it... so she signed up too. So I had a 5 and 7 year old who had never gone farther than a mile (other than on a hike or two or at DisneyWorld). Needless to say, completing this was a task! lol
My daughter's friend had actually been out run/walking with her mom, so she had done 2 miles before... and my daughter kept up with her most of the time... My son's friend bailed on him (was pretty rude actually, but he's 7)... it really hurt my son's feelings, so his heart wasn't into the run from the beginning. But, despite carrying my daughter on my shoulder for close to 3/4 of a mile... and my son on my back from close to 1/2 a mile, we all completed it and everyone was happy (to be done I think)!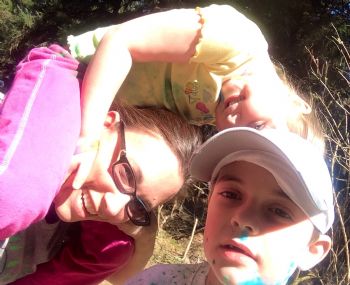 Getting to the next color station really helped to keep them going - and then of course the big color throw at the end (Yes, yellow was the main color left by the time we made it back...).
Not sure how soon I'll try to get the kids to do another race with me... but I know they can do it now, so our weekend hikes are going to increase - and when there is a 1 mile race, I'm going to start signing them up so they can get the bug (I hope).