Sunday, May 04, 2014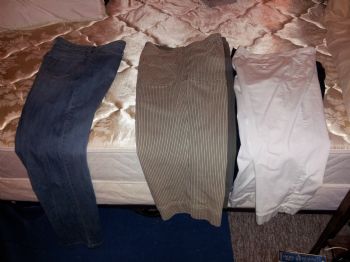 I have too many sneakers, I concluded after straightening out my closet. On impulse, I reached into the far right corner of my closet & pulled out my summer clothes. They didn't fit me last year, so I figured I would make them my goal pants for this summer. I tried on the 2 pair of capri from Express size 14 and they fit nicely. Then I tried the khaki and brown striped capri size 12, and they fit, too! Wow. I tried on the final pair of bluejeans, size 10, the smallest size pants in my closet, and although I could pull them all the way up, they wouldn't close. Eureka, my new goal pants.
I want to say here; that I've felt really badly when some blogger feels down that she got up to the double digits in pants. She can't believe she let herself go like that. I got angry at that skinny B! So I feel sensitive about this issue, and at first wasn't going to write actual pants sizes, afraid I would offend some readers. I don't want you, if you're bigger than me, to feel like I can't relate, or I'm out of touch with your situation. I used to be in a 1x.
Do you want to see how much weight I lost? There are shorts that used to fit me, and I'm wearing them over my jeans!
www.youtube.com/watch?v=
RulDlekRW38&list=UU19gv_Z0
aEuna6fGOF5XF7Q&feature=sh
are&index=1
I think there might be some connection with how many sneakers I have, and how much weight I lost. What do you think? Do you call them sneakers, kicks, runners, trainers?